Bourn and B.J. will get qualifying offers, but early money has them signing elsewhere
The Nationals are seen as possibly the favorite to sign Michael Bourn while the Phillies are seen as a potential landing spot for Upton.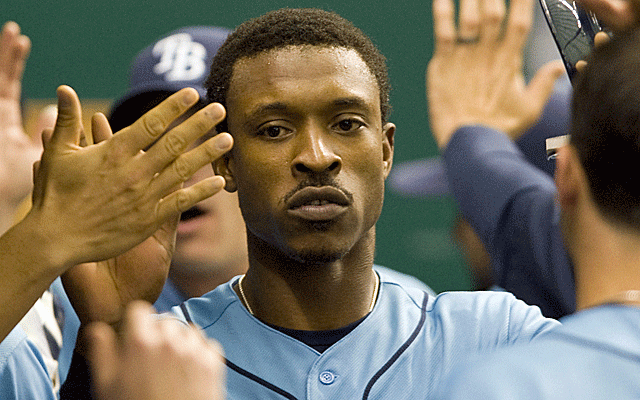 B.J. Upton is about to become a very rich man.
(Getty Images)
The Braves will make a qualifying offer Friday to Michael Bourn, and the Rays will make one to B.J. Upton, as well. But the top two free-agent center fielders on the market will turn those offers down and are more likely to sign long free-agent deals elsewhere.
The Braves have a little bit better chance to sign Bourn long-term than the Rays do of signing Upton, who's surely a goner. But early speculation has both players finding riches with new teams.
Baseball officials still see the Nationals as the favorites for Bourn, while the Phillies are seen as an early favorite for Upton.
Teams must make qualifying offers of $13.3 million to free agents by Friday at 5 p.m. EDT to retain a draft choice should the player sign elsewhere. The players who receive the offers can then decide whether to accept, but in the cases of Bourn and Upton, they will have much longer, more lucrative offers.
Washington has long had an interest in Bourn, and while rookie phenom Bryce Harper did a very nice job in center field, they could move Harper to a corner spot, with Michael Morse moving to first base. If the Nats are able to re-sign first baseman Adam LaRoche as they hope, they could then trade Morse.
The Phillies might pursue two outfielders, but one of them will need to be a center fielder. Bourn is an ex-Phillie, but with his agent having an especially good relationship with the Nats, outsiders view them as the more logical landing spot.
The Braves have a bit of money to spend after the retirement of Chipper Jones, but they are viewed as unlikely to win a bidding war. The Rays have no chance to keep Upton.
Bourn is seen as potentially signing for $80 million over five years, and Upton $perhaps 60 million over five, maybe even more. Center field is perhaps the strongest free-agent position, with Angel Pagan and Shane Victorino also free, but the market should be especially strong for Bourn and Upton.
The Giants, Brewers, Red Sox and Rangers are among other teams that could pursue a top free agent outfielder. The Yankees might, too, but they will concentrate on a corner outfielder, with Brett Gardner and Curtis Granderson already in the fold. Danny  Knobler reported Thursday the Yankees will consider moving Gardner to center field, with Granderson possibly playing a corner spot.