Brandon McCarthy says he isn't a fan of protective headgear options
Diamondbacks right-hander Brandon McCarthy made his Cactus League debut on Wednesday, his first game action since having brain surgery last September. After the game he told reporters he is not in favor of protective headgear for pitchers.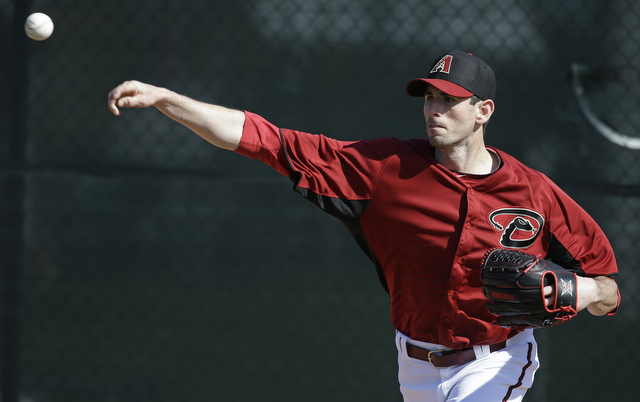 Brandon McCarthy's season came to an abrupt end last season when a line drive fractured his skull in early September. He underwent emergency brain surgery soon after, and it was initially unclear how his career would be affected.
Roughly six months later, the 29-year-old McCarthy returned to the mound on Wednesday for the first time since the incident. He struck out four in two innings of work, allowing one run on two singles and a triple. After the game, he told Bob Nightengale of USA Today he "just didn't want to screw things up."
It's great to see McCarthy -- who signed a two-year deal worth $15.5 million with the Diamondbacks over the winter -- back on the mound so relatively soon after such a serious injury. Interestingly enough, he told Nightengale he is not in a fan of the current protective headgear options for pitchers.
"It's not very good. At all, " said the right-hander. "Until the products are better, it's going to be slow moving."
Back in December we learned a dozen or so big league pitchers will begin to test protective cap liners designed by Unequal Technologies. Clunkier head gear like this model from Easton haven't garnered much support. Given his experience, it'll be interesting to see how influential McCarthy's comments are in the push to better protect pitchers.
The veteran right-hander has battled shoulder trouble throughout his career, but he reinvested himself with the Athletics and went 17-15 with a 3.29 ERA from 2011-12. He'll join Ian Kennedy, Trevor Cahill and Wade Miley in the Arizona rotation.
For more baseball news, rumors and analysis, follow @EyeOnBaseball on Twitter, subscribe to the RSS feed and "like" us on Facebook. Also, individually interact with us on Twitter: @MattSnyder27, @daynperry and @mikeaxisa.

The coveted right-hander would certainly be a fit in Milwaukee

We rate the best mustaches from random baseball cards because, why not?

Colon wants to break a Dennis Martinez record
The Twins have been rumored to be interested in Darvish all winter

Rolen is one of the best third basemen of all time, but you wouldn't know it based on this...

Neither Josh Donaldson nor Brian Dozier have talked about a new contract extension