Braun asserts MVP should be tied to winning -- says McCutchen, others are ahead of him
Brewers star Ryan Braun, the 2011 N.L. MVP, says the Pirates' Andrew McCutchen and others are more deserving of the tag of "MVP frontrunner'' because Braun's Brewers aren't contending so far.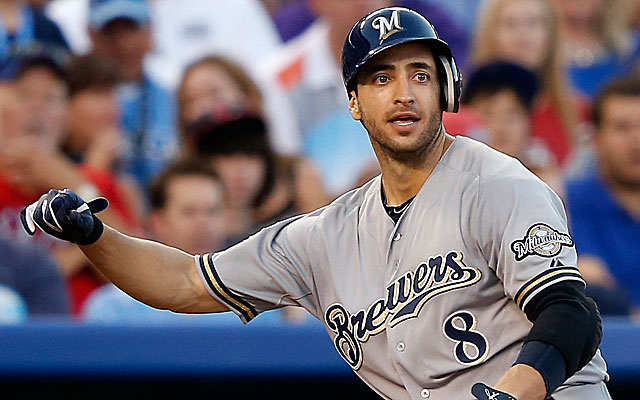 Who's the NL MVP in 2012? Not this guy, says reigning MVP Ryan Braun. (Getty Images)
KANSAS CITY -- Count Brewers All-Star and 2011 National League MVP Ryan Braun as one player who doesn't see Ryan Braun as an MVP front-runner in 2012.
Count Braun in the camp where the standings matter, where the word "valuable" suggests playoffs (or at least contention) -- where stats are important but aren't everything.
"Speaking from experience, I think the main reason I won the award last year was that our team had more success," Braun said. "I think Matt [Kemp] had a better year, individually."
Since Braun benefited last year from helping to lead the Brewers to the playoffs while Kemp's great individual year couldn't quite lift the Dodgers into the postseason, Braun would feel like a hypocrite to suggest he should now win the award based solely on his stats. But Braun's reasoning goes far beyond the personal.
Braun believes like a lot of players that a player's value is connected to his team's. I think he's right.
"For all us players, the goal is to win," Braun said. "Success should at least count for something."
This being baseball, there naturally is a big camp that believes otherwise. That camp would have Braun a lot higher in the MVP race than he would put himself.
I'm with Braun.
Recently, when I expressed the sentiment on twitter that Andrew McCutchen and a few others should be ahead of Braun in MVP consideration now, a tweet fire broke out. Many, many, many (I'm still not sure that's enough manys) folks suggested a player shouldn't be "punished" for the sins of his teammates, and that I'm an idiot (or words to that effect). For the record, I view the vote as a reward for a player, not a punishment for that league's other 374 players.
There is a long history of extra support for players who lift their team to an October berth, not only the Braun-Kemp vote last season. I wouldn't go nearly so far as to say Mickey Cochrane winning the award in 1934 when he had two home runs, 76 RBIs and a .320 batting average catching for a first-place Tigers team was necessarily the right vote, not when Lou Gehrig had 49 home runs, 165 RBIs and a .363 batting average for the second-place Yankees. But in other cases, cases where the stats are in the same ballpark, winning should count.
There are exceptions, like when Andre Dawson and Alex Rodriguez won MVP awards for last place teams, but they usually occur when no other player has a year that is remotely comparable to the winner.
While the Cy Young award goes to the league's absolute best pitcher, and a team's standing should have no affect on a pitcher's chances to win the award, the MVP is different. Some might interpret "valuable" to mean valuable to the team. But there is enough precedent to suggest it means valuable in the league.
The players understand this going into the season, and generally don't take exception to the widely held notion that it's harder to be as "valuable" for an also-ran (the A's pitcher Brandon McCarthy is one who does, apparently, as he was one of the many who mocked my opinion on twitter).
Going only on stats, Braun is right in the thick of the MVP race with his 24 home runs, 61 RBI and .306 average. But at least four players are having comparable seasons for contenders, and I'd rank them all ahead of Braun at the moment. He suggested he would, too.
The Pirates' McCutchen has 18 home runs, 60 RBI and a .362 average. The Reds' Joey Votto's numbers are  14, 48 and .348 (with a league-leading 1.087 OPS), the Cardinals' Carlos Beltran's are 20, 65 and .296 and the Mets' David Wright's are 11, 59 and .351.
"I think McCutchen should be the front-runner," said Braun, before mentioning Votto, Wright and Beltran. "All of these players should get some extra credit for getting their team to a place all of us are hoping to get to."
Braun gets it, I think.
Maxwell joins a growing movement across sports

The Yankees punched their ticket to the playoffs with a win over the Blue Jays on Saturday

Sabathia's stance seems to be an increasingly popular one among athletes
Plus the A's and Brewers have hope, Giancarlo goes deep again, and much more

Matt Chapman and Matt Olson give the A's hope

Despite an awful month, the Dodgers are again NL West champions