Braun ban proves that MLB is serious, and there's more to come
After Monday's Ryan Braun suspension, no one can say that baseball doesn't care about the drug problem. And this is just the start.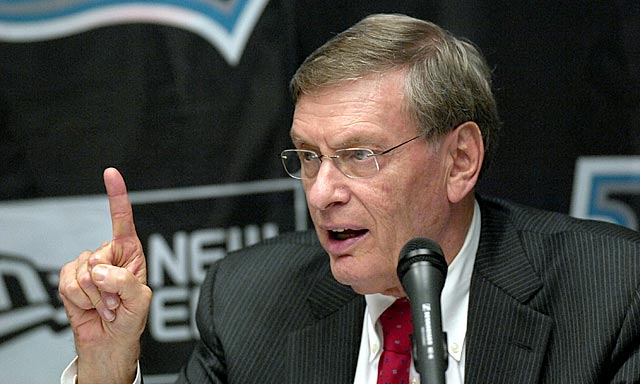 Why doesn't Bud Selig go after the drug cheats?
He just did.
When is baseball going to do something about drugs?
It just did.
There's more to come.
Anyone who doubted the commissioner's determination to act now on drugs was either not listening or in denial. But no one can doubt baseball's intentions now.
A former MVP, once one of the game's most popular stars, was just basically forced to accept a 65-game ban without pay, after baseball aggressively investigated him and others. And while Ryan Braun's suspension was the first to come out of the Biogenesis investigation, it won't be the last.
Complain, if you will, that baseball's investigation was too aggressive. But please don't say that there's any evidence that it wasn't aggressive enough.
There was a time when baseball was rightly accused of ignoring its drug problem. That time isn't now.
So what happens next?
MLB will continue to pursue more suspensions. As CBSSports.com's Jon Heyman reported Monday, Alex Rodriguez faces the possibility of a lengthy ban (and the evidence collected against him is said to be even stronger than the evidence baseball had in Braun's case). Heyman also reported that as many as 15 or so players are also expected to face suspensions.
Some could agree to go down without a fight, as Braun did. Some could take the fight to an arbitrator, extending the process and making it likely that their suspensions (if upheld) wouldn't take effect until 2014.
What holds true for one player doesn't necessarily hold true for another, in part because the evidence against each one could be different, in part because the player's desire or motivation to fight could be different.
Braun, whose Brewers team is out of contention (and whose salary goes up next year), would seem to have had motivation to serve his suspension right away. Baseball certainly had motivation to get a quick resolution in his case, to help establish the credibility of the evidence and as a suggestion to other players that it might be better to agree than to fight.
Without knowing the evidence, and without knowing baseball's intentions with regard to any specific player, it's impossible to know what will happen to any player whose name has been connected to the case.
Some, including Rangers outfielder Nelson Cruz and Tigers shortstop Jhonny Peralta, are on contending teams. But Cruz and Peralta are also both eligible for free agency at the end of this season, so it's reasonable to wonder whether they would want potential suspensions hanging over them this winter.
Two other players whose names were in the Biogenesis records, A's pitcher Bartolo Colon and Blue Jays outfielder Melky Cabrera, both served suspensions last year after failing drug tests. That alone would seem to make their cases different.
Rodriguez will turn 38 next week and has been trying to come back from a second hip surgery (and later what was diagnosed as a quad strain). Would he even be able to come back and play after a lengthy suspension?
Monday's announcement of the Braun suspension doesn't really help us with definite answers to any of the other big questions, but it did provide us with one important reminder.
They're serious. They're dead serious.
You can stop asking about that now.
Gallardo spent the first eight years of his career in Milwaukee

MLB revenues are at a record high right now, but teams aren't spending it on players

Chicago added Tyler Chatwood earlier this offseason but might not be done adding to the ro...
The Dodgers and Braves pulled off a whopper on Saturday

Sabathia will reportedly spend a 10th season in the Bronx

Fowler suffered a knee injury at Chicago's Guaranteed Rate Field