Braun's first step intended to separate himself further from A-Rod
Ryan Braun is expected to issue a statement in coming days, apologizing for his transgressions and explaining his failed 2011 test.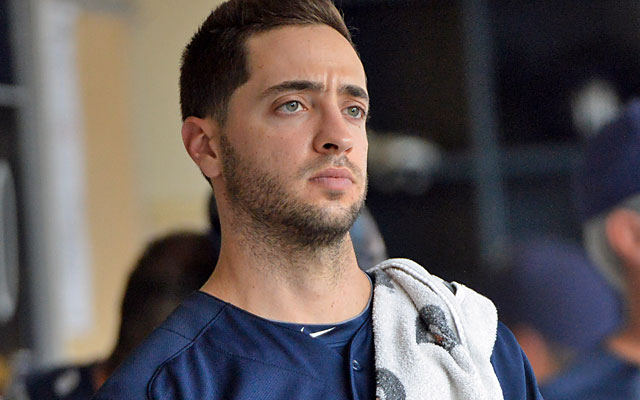 Alex Rodriguez and Ryan Braun, two stars with strong Miami ties, were never close.
And pretty soon, Braun will take a step toward separating himself further from Rodriguez by issuing a public statement that's expected to apologize for his PED transgressions and explain how he came to fail a 2011 MLB test for testosterone, baseball sources confirmed.
In a word, he's going to "own" what led him to accept a 65-game suspension for performance-enhancing drugs, a person familiar with the situation said.
While Braun's announcement, expected to be made in coming days, won't magically resurrect Braun's reputation (that will take awhile, if it ever happens), this step should at least provide a sharp contrast to Rodriguez. A-Rod so far has done the opposite: He issued an early denial about his own link to Biogenesis and its proprietor Tony Bosch, he's admitted to nothing to date and is fighting the PED record 211-game suspension that MLB levied, which has allowed him to play for the Yankees while he appeals.
Rodriguez and Braun are rivals with that South Florida connection, but as was made clear in this space Friday, the two baseball superstars are in no way close. In fact, they are said not to like each other, a feeling presumably made much worse by the "60 Minutes" report that someone in Rodriguez's inner circle leaked documents connecting Braun (as well as Rodriguez's own teammate Francisco Cervelli) to the Biogenesis scandal.
Leaking the documents would be a violation of baseball's collective bargaining agreement.
Rodriguez denied the report, telling the media at Fenway Park Friday, "I've been a member of the union for twenty years and it's important for the other guys to know, for my reputation in this union, that it never happened. And it didn't happen."
Rodriguez also said he told Cervelli that his camp didn't leak the documents, and declared, "He understands that it's not true. We're on the same page." Meanwhile, A-Rod said he didn't speak to Braun, which probably shouldn't come as a surprise considering their history.
In reality, by the nature of fame Braun suffered even more harm than Cervelli from the public outing of his involvement, though if the intention was to divert blame/attention from A-Rod, as 60 Minutes suggested in its report, the strategy didn't work since Rodriguez still received by far the most negative attention. That's not a surprise since Rodriguez has been considered an all-time great who's a lightning rod -- not to mention the fact his penalty is three times greater based on MLB's findings that he used in 2010, '11 and '12 and its belief he "obstructed'' baseball's investigation.
Braun was harmed, though, by the leak as the public attention and pressure likely consumed him, possibly leading to his decision to agree to the 65-game ban a year after winning an arbitration case to have a 50-game suspension for a failed test from October 2011 overturned.
Though there's no reason to think personal feelings were behind the leaking of the documents, a person formerly close to Rodriguez said the pair are far from friends. "[Rodriguez] doesn't like Braun. Braun is the college star in Miami that [Rodriguez] never was,'' that person said, speaking about the fact that Braun starred at the University of Miami, which is Miami product A-Rod's home base and the recipient of a $3.9-million Rodriguez gift that led to the school naming its baseball field Alex Rodriguez Park.
Though specifics of Braun's coming statement were unavailable, he is expected to make a detailed public statement, likely via a press release. Most notably, Braun will explain the drug usage in his MVP season of 2011 that led to the positive test. USA Today first reported Braun intended to come forward.
Braun has begun apologizing by phone to teammates, and Brewers writers reported he has spoken at least to Brewers manager Ron Roenicke and catcher Jonathan Lucroy.
Braun has a very long way to go in his attempt to recover his good name, if he ever can. But at least with this step, he's separating himself further from Rodriguez. It's something, anyway.
Keep it locked right here for everything you need to know about the world of baseball Tues...

There have been several racially charged incidents at Fenway Park this year

Washington's right fielders have sputtered offensively since Harper went down
The good news? Wichita still has a chance to win the series Tuesday night

Soon more home runs will have been hit in 2017 than in any other season in MLB history

Ferrell somehow avoided going to the ground