Braves ambush Rockies on Bad Street, win EOB heavyweight title
The Rockies were hoping to defend the Eye On Baseball Championship in Atlanta. Little did they know that the match would take place on Bad Street.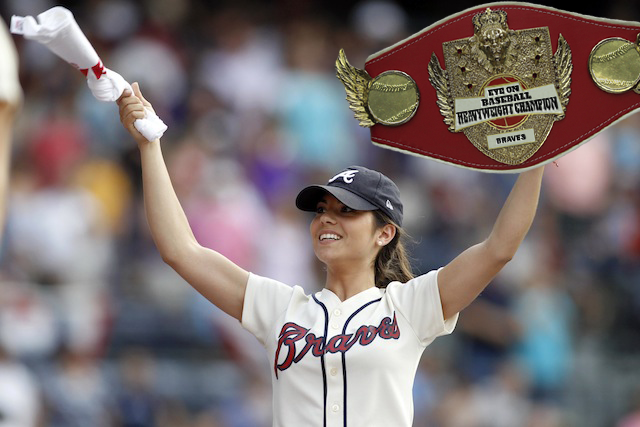 More MLB: Power Rankings | Expert Picks | Latest news & notes | Fantasy news
The Rockies marched into Atlanta, but to the shock of millions of breathless onlookers they dropped two of three and in doing lost the Eye On Baseball Heavyweight Championship to the Braves. 
Wait, the "Eye On Baseball Heavyweight Championship"? What's that? That, friends, is this ...
The Eye On Baseball Heavyweight Championship, inspired by the valorous glories of professional wrestling, is back for a second season.

The defending World Series champ starts the regular season with the belt. From there, here are our rules.

1. A team must win a series from the champion to take the belt. One game isn't going to cut it, considering it's a 162-game season and teams all view the season in terms of series.

2. If the belt-holder splits a series (two- or four-game series), it retains. Much like on a draw in boxing or a count-out situation in pro wrestling, you don't get the belt unless you actually beat the champion. A tie isn't good enough.

3. If, at the end of the regular season, the belt-holder does not make the playoffs -- and due to the dynamics of this thing, that scenario is entirely plausible -- said team will be stripped of the title for not qualifying for the postseason. Then the winner of the playoffs -- the World Series -- takes the belt and the title into the offseason.
So how did the Braves win both belt and title from the Rox? As intimated in the headline, they lured them to a particularly dangerous intersection of Bad Street. Check out these official MLB highlights ... 
Nasty and hot!
In the end, the Rockies had little chance against the mortal hazards found on Bad Street. Thus the Braves took the strap. 
And that brings us to the exalted Roll Call of Maximum Honor ... 
| Eye On Baseball Heavyweight Champion | 2014 title reign |
| --- | --- |
| | March 31 - April 4 |
| | April 5 - April 14 |
| | April 15 - April 23 |
| | April 24 - May 2 |
| | May 3 - May 10 |
| | May 11 - May 14 |
| | May 15 - May 17 |
| | May 18 - May 24 |
| | May 25 - Present |
Next up for the freshly minted champs? A four-game home-and-home set against the Red Sox. At stake? The Eye On Baseball Heavyweight Championship ... 
The Nats will host the All-Star Game in 2018

The Orioles are looking to trade Machado heading into his walk year

The Cardinals have been linked for a while to the Baltimore star
Gallardo spent the first eight years of his career in Milwaukee

MLB revenues are at a record high right now, but teams aren't spending it on players

Chicago added Tyler Chatwood earlier this offseason but might not be done adding to the ro...