Braves beat Dodgers in Game 2 of NLDS, tie series: Quick hits
With a 4-3 victory over the Dodgers Friday evening in Atlanta, the Braves have evened up the best-of-five series at one game apiece.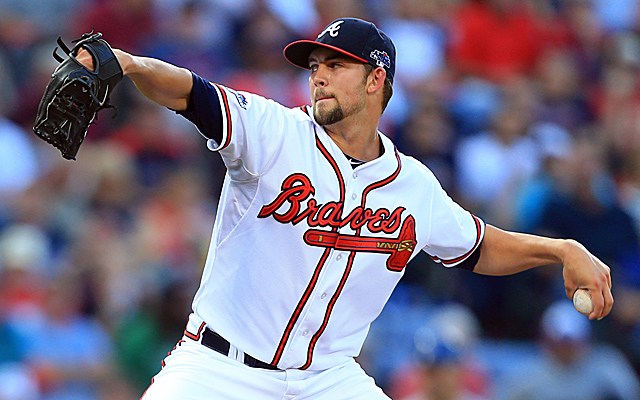 The Braves toppled the Dodgers in our first close game (finally!) of the LDS round, 4-3, evening the best-of-five series, 1-1. Let's take a look.
Hero: Lots of love to go around here in what was essentially a must-win game for the Braves. Facing off against Zack Greinke, though, Mike Minor needed to step up -- especially after coughing up a run in the first inning and putting his team behind in a close game. And step up he did. Minor ended up working 6 1/3 innings, allowing only that one earned run. He did allow eight hits, but those who watched the game know how many big pitches Minor ultimately made. He induced two double plays while also stranding runners at the corners with a huge strikeout of Juan Uribe to end the sixth on a nasty slider.
Goat: Dodgers manager Don Mattingly decided it was a good idea in a one-run game in the eighth inning to walk Reed Johnson intentionally to load the bases for Jason Heyward. So an old bench player was put on base on purpose so the pitcher could face -- with no margin for error, mind you -- one of the more talented players in the majors who has been on fire since moving to the leadoff spot. The Dodgers may well have lost a one-run game if Mattingly decided to pitch to Johnson. Hell, maybe Johnson would have come through. We'll never know. What we do know is a stupid decision was made and it turned a one-run game into a three-run game with only two innings remaining. Meanwhile, Hanley Ramirez hit a two-run homer next inning to cut the lead back to one, making Mattingly's gaffe even more glaring. With no one else doing anything glaring enough to be called a goat, this is an easy decision.
Turning point: When Heyward collected the two-RBI single. The Braves bullpen is elite and probably would have held that one-run lead, but the Heyward hit made it a three-run game. It was a nail-biter throughout, but this was the blow that significantly tilted things in favor of the home Braves -- giving them the margin of error they needed to withstand the Ramirez homer.
It was over when: It was a one-run game, so it was over when it was literally over. When the final out was recorded by Braves closer Craig Kimbrel -- striking out Carl Crawford.
Next: Things shift to the other coast, as the Dodgers will host Game 3 Sunday at 5:07 p.m. local time, 8:07 p.m. Atlanta time. Hyun-jin Ryu (14-8, 3.00 in regular season) will make his first career postseason start for the home Dodgers while Julio Teheran (14-8, 3.20) will do the same for the visiting Braves. With the series tied, 1-1, this is a pivotal game and it's a real tasty pitching matchup among relatively unheralded arms.
Wright was arrested at his home Friday

The former Tigers teammates were voted into Cooperstown by the 16-person Modern Era Commit...

The Yankees still have room for a good-sized signing even after Saturday's trade with Miam...
St. Louis gets some much needed help for their bullpen

Keep tabs on the top 50 free agents right here

Morrow thrived with the Dodgers last season