Braves' B.J. Upton has rebuilt his swing, and that's a good thing
Braves center fielder B.J. Upton has spent the winter repairing his swing. That's his best hope for a rebound in 2014.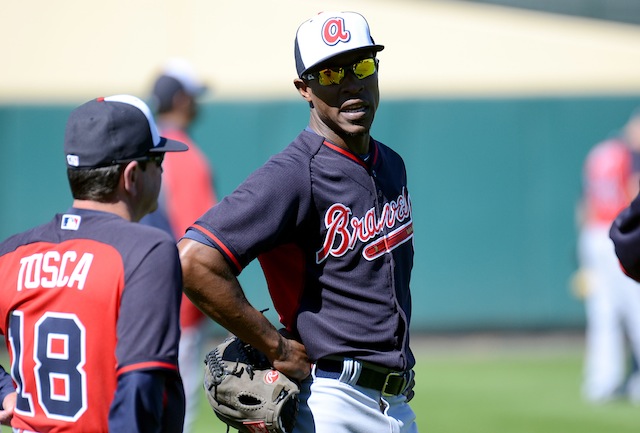 MORE: Spring Training | FA tracker: position players | FA tracker: pitchers
There's no soft-pedaling when it comes to the miserable 2013 season of Braves center fielder B.J. Upton: In 126 games, Upton batted .184/.268/.289 and struck out once every 2.6 at-bats. In a related matter, his OPS+ tumbled from a respectable 108 in 2012 to a bottom-feeding 53 last season. Compounding those miseries is the fact that Upton was in the first year of a five-year, $75.25-million contract.
Given the depths and consistency of his struggles (he logged an OPS of .500 or worse in four of the six months of the regular season), it's no surprise that Upton has spent the offseason making, in the words of MLB.com's Mark Bowman, "mechanical adjustments." Bowman writes:
As the season progressed, Upton realized that a mechanical flaw was creating too much inefficiency with the lower half of his body. But regardless of how many times his father, Manny Upton, or Walker made suggestions to create more efficiency with his legs, the 29-year-old outfielder was not able to fix the flaw that led him to strike out once every 2.95 plate appearances -- nearly one plate appearance fewer than his previous career low mark (3.75) the year before. ...

While Upton has stressed that he did not make too many adjustments to his swing, he has continued to provide the Braves encouragement as he has spent the first week of Spring Training looking much more comfortable and athletic while using a more crouched batting stance.
To be sure, there's probably a bit of bad luck baked into Upton's 2013 numbers -- his low BABIP and slightly depressed home run/fly ball percentage suggest that much. However, there's stronger reason to think something simply wasn't right. 
Consider the following table which presents Upton's 2013 infield pop-up percentage (IFPU%), overall contact rate (CT%) and contact rate on pitches within the strike zone (CTZ%). His numbers from last season will be compared to his career averages (those averages will include his 2013 numbers) and the league-average marks for last season ... 
B.J. Upton's advanced hitting indicators
Season/Stats
IFPU%
CT%
CTZ%
Upton in 2013
19.3%
66.9%
71.8%
Upton career
9.1%
74.4%
80.7%
2013 MLB average
9.7%
79.5%
87.0%
A pretty picture these data do not paint. As you can see, Upton last season hit far too many weak pop-ups and failed to make contact at an acceptable rate both overall and on pitches within the strike zone -- i.e., in the latter case, pitches that he should be able to handle. All of this is the case relative to the league average and relative Upton's established levels of performance (and remember that those established levels listed above are being dragged down by his 2013 numbers). 
All of this is to say nothing of the fact that Upton, from 2012 to 2013, lost about 13 feet on the average distance of his fly balls. Put simply, all of this looks, feels and smells like a hitter who either hit his decline phase in a hurry or was grossly out of sorts at the plate. 
As for the former possibility, Upton is still just 29 years of age, and he's an athletic, fleet-of-foot type. That is, he's not at an age that lends itself to precipitous decline, and he doesn't fit the profile of an "early decliner." I'm left thinking that, yes, Upton really did have something seriously wrong with his swing last season. 
In a sense, that's good news. If Upton spent the winter not tending to any mechanical needs, then the implication would be that his swing was just fine in 2013 in spite of those foul-smelling outputs. The other implication would be that Upton and the Braves think his struggles were just one of those things. The numbers above, though, suggest something else was going on.
It remains to be seen whether the adjustments of which Bowman writes lead to improvement, but it's at least a positive sign that Upton and the Braves have both a diagnosis and a possible cure.
Our Latest Stories
The Rockies are clinging to the second NL wild card spot at the moment

Plus Matt Olson and Kevin Kiermaier heroics, a look at Zack Greinke's dominance and more

Plus the Indians are now 27-1 in their last 28 games. Here is everything you need to know from...
The soon-to-be 43-year-old Dickey said he wants to spend more time with his family

The two NL Central rivals opened a four-game series at Miller Park on Thursday night

The ballparks in Cincinnati, San Diego and Seattle will have expanded netting in place by Opening...