Braves bounce back, showing they can take a shot to the kisser
The Dodgers are a talented circus. The Braves are the strong, silent type. In Game 2, the Braves show their toughness to even the NLDS at one game apiece.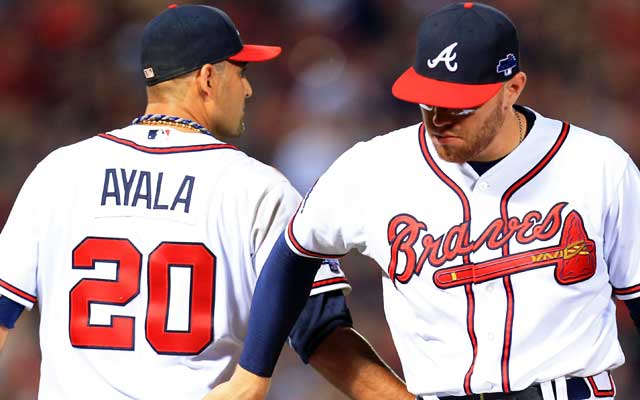 ATLANTA – It only made sense that the man who overcame the badly broken jaw had the huge hit for the Braves.
This team clearly does not have what's known in boxing as a glass jaw. It clearly can take a punch. (Or a fastball to the jaw, as it were.)
The Braves, as the name would suggest, don't cower, they don't cringe and they don't take cover. People around the team insisted they were unaffected by the Game 1 blowout defeat to Cy Young, er Clayton Kershaw, and the proof was in the payback.
The Braves didn't run away in the NL East by accident, and they showed their mettle in their 4-3 victory over the Dodgers that evened the NLDS at a game apiece Friday night. Braves manager Fredi Gonzalez admitted it was a must win afterward, and considering the talent and experience on the other side of the field, it certainly was.
Unheralded Game 2 starter Mike Minor pitched 6 1/3 solid innings, outdueling $147-million man Zack Greinke.Andrelton Simmons and Chris Johnson delivered RBI hits early, and most impressively, Jason Heyward, who returned much quicker than expected from that broken jaw suffered when he was hit in the face by a Jon Niese pitch in late August, produced the clinching two-run smoked single past Dodgers left-handed reliever Paco Rodriguez.
Heyward's hit was a metaphor for a team that can take whatever comes its way. That includes even a 90-mph heater to the face.
The Braves endured injuries aplenty, and Heyward's was suffered in an especially gruesome fashion. Yet, here he is, back before anyone expected, hanging in against good lefties. In terms of toughness, Heyward may be the gold standard.
"He's as tough as it gets," the Braves' Brian McCann said. "He plays all out every game, even since he came back from the broken jaw.''
Reed Johnson, who was walked intentionally to get to Heyward, said the reaction when Heyward went down was, "Oh my God -- that was a devastating blow for us." Installing Heyward in the leadoff spot where he had a .400-plus on-base percentage was what got the all-or-nothing Braves offense going, and they feared they'd be plenty vulnerable without him.
But he returned sooner than the six weeks they expected. And he hasn't changed his approach one iota.
"This is almost the same situation, against a lefty like Niese, and he's obviously able to block it out," Johnson said, admiringly.
The same could be said for the team, which was able to get past an awful opening night in the NLDS where nothing went right. When cutoff men were missed, fly balls were whiffed and grounders booted.
This time it was the Dodgers who were left to explain.
Heyward's hit off the lefty Rodriguez came after Dodgers manager Don Mattingly had the righty Johnson, a part-time player, intentionally walked, loading the bases with two out. It was a risk, though perhaps Mattingly liked the lefty-lefty matchup better.
"We felt Paco is a guy who pitches down and fits into Reed ... he's a guy we think gets Heyward out," Mattingly said. "Been getting those guys out all year long for us."
Chants of "Beat LA" rang out, which was refreshing because it interrupted the constant din of the tomahawk chop. This Braves team is appreciated here, though maybe underrated elsewhere.
But LA wasn't through; it kept threatening.
Atlanta had taken a one-run lead into a bullpen battle, which was their hope. Even without Jonny Venters and Eric O'Flaherty, who are out for the year, Atlanta's pen was the best in baseball, and Luis Avilan, brilliant all year, induced $142-million man Carl Crawford to hit into a nifty 1-6-3 double play with runners at the corners and a chance to tie the score in the seventh.
But torrid Hanley Ramirez hit a one-handed home run off reliever David Carpenter into the lower left field pavilion (his fourth extra-base hit in two nights) to bring the Dodgers within 4-3. Asked if he works on his one-handed homers, Ramirez, smiling, said, "Not at all. I work on my follow through."
It's amazing, really, what he's able to do half hurt. In terms of his hitting, there's nothing hurting about that, as he has four extr-base hits in the first two games. "I've been feeling good all year long," Ramirez said. "The trainers ... anything you need, they got my back." (And his shoulder, too.)
After Carpenter whiffed Adrian Gonzalez and Yasiel Puig on heaters, in came the best heat in Hotlanta -- closer Crain Kimbrel -- for a four-out save.
Kimbrel, who hit 101 mph on the gun in the eighth, caught a break when pinch runner Dee Gordon was called out on a steal attempt with one out in the ninth. Shortstop Andrelton Simmons appeared to tag Gordon late on the leg, but second base umpire Bill Miller called Gordon out. The Braves suffered from a bad infield fly call in the playoffs last year, so maybe it evened out. For them, anyway.
"I said "Woah,"" the good-natured Gordon said later, which was for him as harsh an argument as he makes. It was very brief on the field, as Gordon said Miller didn't respond. "What's he supposed to say, sorry?"
Mattingly said it was difficult to tell from their vantage point whether Gordon was out or not, but thought he looked safe. Then he watched a replay and said he still looked safe.
The out call hurt worse because Kimbrel had some control trouble in the ninth, walking A.J. Ellis and pinch-hitter Andre Ethier. But Kimbrel eventually ended the game by whiffing Crawford on a 98-mph heater.
By the time all the moves and machinations of the late innings were over, it was almost hard to recall that Greinke had started the game and that he has pitched pretty well, allowing just two runs on six innings. He left for pinch hitter Michael Young in the top of the seventh with a runner at second and one out, and the Dodgers got  a favorable result when Young beat out an infield single (with an assist from reliever Luis Ayala, who stepped to the side of the bag rather than on it).
Mattingly had more questions to answer about that one, but the call to pull a pitcher in the seventh, knowing the Braves have Kimbrel for at least the ninth, seemed like the right one. Anyway, Mattingly answered "not really" to the question of whether he considered letting Greinke, who had thrown just over 80 pitches and batted .328 this year, hit for himself. That sounds about right. "Michael got a hit and we had a shot at a run there," Mattingly pointed out.
And Greinke, who is known to analyze things to death, didn't question the move a bit. "I'm a good hitter for a pitcher. He's a good hitter for a hitter -- big difference,' Greinke said, pretty well summing it up. "The goal is to win, not to make your pitcher happy."
There's a lot of questioning that goes with being a Dodger and having that mega payroll. The Braves don't have to face the same sort of scrutiny.
And yet, they still have had plenty to overcome.
Good for them the Braves are the strong, silent types. And to a man, they don't seem intimidated or envious of what seems like an embarrassment of riches on the other side of the field, where their ledger features wunderkinds, former batting title winners, three players with nine-figure contracts, the Cy Young guy and Magic Johnson.
McCann has been called a member of the fun police for cracking down on home run "pimpers" and the like, but there's no stopping the Dodgers in the category of revelry.  There's no pool here, but the Dodgers' entire ownership group (including Magic, Stan Kasten,  Mark Walter, Peter Guber, Todd Boehly, Bobby Patton, etc.) joined together on the field before the game, snapping pictures, and lapping up the glory, the spoils of their record $2.15-billion purchase.
You think they have buyers' remorse? Not a shot.
Meantime, beyond the Uptons (one of whom isn't even starting) the Braves score abysmally low on Q ratings. But they bring a lunch-pail attitude and innate toughness. Which is nothing short of necessary now.
"We're professional around here, and some of us have been in this position before," McCann said before the game. "We're just down one game. They threw Kershaw at us; he took it to us. Tip your hat and move on."
That they did, playing their usual solid ball a day after missing cutoff men, losing track of fly balls and misplaying grounders.  One night later, they are back in the game.
Gonzalez attributed some of those opening game errors to being "amped up," an honest assessment for a young team anxious to prove its worth against a team filled with stars and celebs.
But the Braves have other fine qualities.
This Atlanta team is quiet and workmanlike. That is to say, dull – at least compared with the $220-million multi-talented international circus across the diamond. But that doesn't mean the Braves are unable to take care of business when absolutely necessary.
Keep tabs on the top 50 free agents right here

The Padres have been heavily connected with Hosmer all offseason

The Twins needed rotation help, so the Odorizzi acquisition makes sense
The Rays pulled off a head-scratching move Saturday night

The Rangers will certainly be back in the market for a reliever

Watson will give the Giants a good left-handed reliever