Braves clinch first NL East title since 2005
For the first time since 2005, the Braves are NL East champions.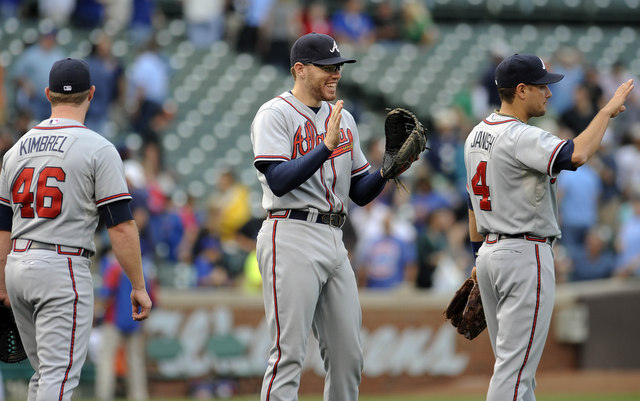 More Braves: Perry: 2013 Braves have overcome expectations, injuries
For the first time since their historic run of 11 consecutive division titles ended in 2006, the Braves are NL East champions. They clinched the division when the Nationals lost 4-2 to the Marlins on Sunday afternoon. Atlanta clinched a share of the division crown on Friday but now have it outright.
Even with the NL East crown in the bag, the Braves still have something to play for in the final week of the season. They came into Sunday with a half-game lead over the Cardinals for the best record in the National League, which would give them homefield advantage throughout the NL portion of the playoffs. The Braves have been a far better team at home in Turner Field (52-22, .703) than on the road (39-41, .488) this summer.
As for Atlanta's successes to date, it largely boils down to a good offense (fifth in the 15-team NL in runs scored), a quality defense (third in the NL in defensive efficiency rating), a solid rotation (fifth in the NL in starters' ERA) and a shutdown bullpen (tops in the NL in relievers' ERA). In other words, the 2013 Braves had no obvious weakness at the component level.
As individual performances go, Andrelton Simmons turned an elite season with the glove. Craig Kimbrel burnished his reputation as the top closer in baseball. Freddie Freeman was a deserving All-Star, Chris Johnson is a threat to win the batting title, and Justin Upton rediscovered his home run stroke. On the pitching front, Julio Teheran turned in a strong rookie season, Kris Medlen rode his change-up to continued success, and Luis Avilan stepped up big after injuries devastated the left-handed relief corps. Oh, and the Braves' bench was perhaps the best in baseball.
The Braves have not advanced beyond the first round of the postseason since 2001 and hasn't claimed the pennant since 1999. Greg Maddux, Tom Glavine and John Smoltz were all still in the rotation the last time the team went to the World Series. The NL East title is a great accomplishment, but you can be sure the Braves consider that just the first step towards their ultimate goal.
MLB can unilaterally implement rule changes, which will also include limits on mound visit...

If the MLBPA wants to fix MLB's economic system, it should push for more money for young p...

Fans aren't happy Gerrit Cole and Andrew McCutchen have been traded away
Acuna is arguably the best prospect in baseball

Kent had a good career, particularly with the bat

This would undoubtedly be the worst trade in Miami Marlins history