Braves-Dodgers NLDS Game 4 preview: Kershaw vs. Garcia
The Dodgers are starting likely NL Cy Young Award winner Clayton Kershaw on short rest against veteran Freddy Garcia in Game 4 on Monday.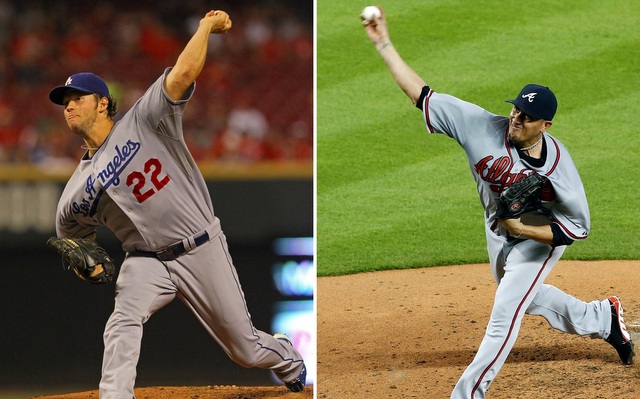 More NLDS: Game 4 starting lineups | Game 3 quick hits | Who has the edge?
The Dodgers called a somewhat surprising audible Monday afternoon, when they announced ace left-hander Clayton Kershaw would start Game 4 of the NLDS tonight instead of Ricky Nolasco. Kershaw (16-9, 1.83 ERA, 0.92 WHIP in 236 innings) will be pitching on three days' rest for the first time in his career.
Personally, I love the move. I'm a big fan of using aces on three days' rest whenever possible in October. Yes, the Dodgers are up two games-to-none in the best-of-five series, so it's not a true must-win game, but I like the idea of trying to lock it down in Game 4 and avoiding the cross-country flight to Atlanta. Games like this are why every club wants a Kershaw.
Anyway, the Braves are on the brink of elimination and will send veteran junkballer Freddy Garcia (4-7, 4.37 ERA, 1.25 WHIP in 80 1/3 innings) to the mound with the season on the line. They acquired him from the Orioles on August 23 to serve as an extra arm in September, and now he's starting their biggest game of the year. Baseball is weird sometimes.
Game 4 of the series is scheduled to begin at 9:37pm ET (6:37pm ET). As usual, the weather in Southern California is great and they won't have any trouble getting this game in. Let's break down the pitching matchup a little further.
Kershaw vs. Braves
In Game 1 of the series, the likely NL Cy Young Award winner allowed just one run on three hits while striking out a dozen in seven innings. That was on the road. Now Kershaw will be pitching at his home park, where he had a 1.54 ERA, 0.91 WHIP and 5.82 K/BB in 122 2/3 innings this year.
Former NL West rival Justin Upton has, by far, the most experience against Kershaw of anyone in the Braves lineup. Unfortunately, he's gone 3-for-32 (.094) with 10 strikeouts against the southpaw. Chris Johnson has the second most at-bats against Kershaw and he hasn't touched him either -- 2-for-15 (.133). Freddie Freeman has had some success, but it's not exactly a big sample. We're talking 2-for-5 (.400) with two walks. Yeah.
The players on Atlanta's current roster have hit a combined .141/.210/.217 against Kershaw in exactly 100 combined plate appearances. NL pitchers hit .135/.167/.174 this season, just for comparison.
Garcia vs. Dodgers
The one they call Sweaty Freddy pitched pretty well for the Braves down the stretch, tossing up a 1.65 ERA and 1.02 WHIP in 27 1/3 innings. He got clobbered while with the Orioles earlier in the season though, plus the pitching-starved Padres cut him in spring training.
Believe or not, Dodgers hitters don't have a ton of experience against Garcia even though he's a 15-year veteran. Unsurprisingly, Michael Young and his 44 at-bats (12-for-44, .273 AVG and .579 OPS) lead the way. Carl Crawford has gone 7-for-26 (.269) with an .821 against the right-hander while Nick Punto is at 2-for-25 (.200) with a .400 OPS. That's really it. Everyone else just has a handful of at-bats.
The current Los Angeles roster has hit .252/.278/.371 (.252) in 154 career plate appearances against Garcia, but that really doesn't mean all that much. Age and shoulder surgery forced Freddy to transition from power pitcher to soft-tosser a few years ago, so he's not the same pitcher he was earlier in his career. He does have a ton of playoff and big game experience though, and every little bit helps.
Gallardo spent the first eight years of his career in Milwaukee

MLB revenues are at a record high right now, but teams aren't spending it on players

Chicago added Tyler Chatwood earlier this offseason but might not be done adding to the ro...
The Dodgers and Braves pulled off a whopper on Saturday

Sabathia will reportedly spend a 10th season in the Bronx

Fowler suffered a knee injury at Chicago's Guaranteed Rate Field