Braves, Freddie Freeman agree on extension, reportedly 8 years, $135M
It's been an active day for the Braves, as they've now locked up arbitration-eligible All-Star Freddie Freeman, reports our own Jon Heyman. A report indicates that it's a monster extension for eight years and $135 million.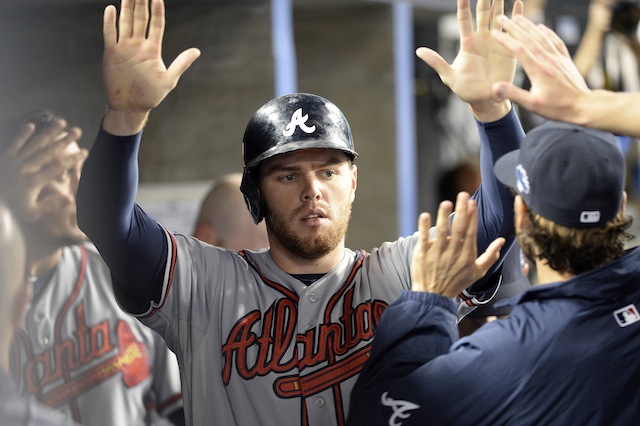 Snyder: It's clear, Freeman is face of the franchise
CBSSports.com's Jon Heyman reports that the Braves have agreed to terms with first baseman Freddie Freeman on a contract extension. Freeman had been eligible for arbitration, though the reported deal constitutes far more than avoiding arbitration.
The deal is for eight years and $135 million, according to Braves.com beat writer Mark Bowman.
Earlier on Tuesday, the Braves signed Jason Heyward to a two-year extension, which marked a change in philosophy of sorts: previously, the Braves and GM Frank Wren had been inclined to go to arbitration with players who did not agree to terms by the filing deadline. Now, they've locked up two arbitration-eligibles in one day. 
As for Freeman, the 24-year-old All-Star is coming off a 2013 season in which he batted .319/.396/.501 (144 OPS+) with 23 home runs in 147 games. For his career, Freeman owns an OPS+ of 123 across parts of four major-league seasons. He was on target to be eligible for free agency following the 2016 season, so this new reported deal with eat up five of Freeman's free agent years. 
Freeman's deal means closer Craig Kimbrel is the last unsigned Brave. 
The Rangers have a lot riding on Mike Minor and Matt Bush

Though the process is far from complete, taxpayers got good news Thursday

Dickerson had been designated for assignment by the Rays last week
Honeywell is considered a top 15 prospect overall in baseball

Troy Tulowitzki is not a pitcher, for those of you who don't know

It will be MLB's 15th game abroad and the A's third in 12 years