Braves heading to arbitration with three of their best players
The Braves won't negotiate deals for 2014 with Freddie Freeman, Jason Heyward or Craig Kimbrel, so they'll head to salary arbitration with all three All-Stars.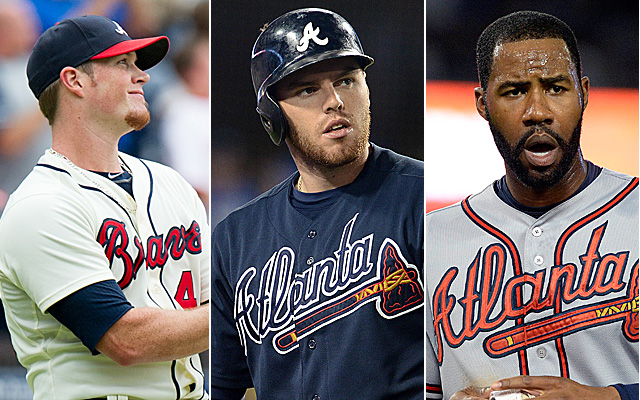 Arbitration deadline day roundup
The Atlanta Braves are heading to salary arbitration with their three most high-profile arb-eligible players: All-Stars Craig Kimbrel, Freddie Freeman and Jason Heyward.
The deadline to exchange figures for salary arbitration was earlier Friday, and though clubs and their respective arb-eligible players can still strike deals prior to a possible arbitration hearing, the Braves are a "file and trial" club, meaning they don't negotiate after figures are exchanged.
"We have an organization philosophy of the filing date is our last date to negotiate prior to a hearing," general manager Frank Wren told David O'Brien of the Atlanta Journal-Constitution.
So that means Kimbrel, Freeman and Heyward will each have arbitration hearings during February in Florida.
Now, just to be clear, the Braves aren't in danger of losing any of the three players. Each are under club control for the 2014 season. In fact, Heyward won't hit free agency until after the 2015 season with Freeman and Kimbrel being eligible for free agency the following offseason.
What this does mean, however, is there are hearings upcoming for the three players that can likely be a bit awkward. The player goes into the hearing with his agent in an attempt to convince the arbitrator that he's worth what they're asking. Meanwhile, the ballclub in question (here the Braves, obviously) has to sell the arbitrator that, ahem, this player isn't as good as he says he is. One side wins and one loses; there is no compromise.
It's a process that can surely leave a bad taste in the mouth of the player in question and it's why most of the time these matters are settled before the hearing. For example, even as a "file and trial" team, the Braves haven't gone to a hearing since doing so with John Rocker back in 2001.
Via O'Brien, Wren has said that he'll be "sensitive" during the hearings to the fact that these are three of his most important players.
As for the figures:
Heyward asked for $5.5M and #Braves offered $5.2M, kind of difference usually settled before an arb hearing (if team not "file and trial)

— David O'Brien (@ajcbraves) January 18, 2014
Freeman asked for $5.75M and #Braves offered $4.5M; he'd been projected at about $4.9M

— David O'Brien (@ajcbraves) January 18, 2014
Disparity in what Freeman, Heyward asked and #Braves offered is meh, but Kimbrel's $9M ask is abt $2M above projections (ATL offered $6.55M)

— David O'Brien (@ajcbraves) January 18, 2014
It's pretty hard to figure how the Braves couldn't agree to terms with Heyward at the very least. That's just $300,000 and there was no compromise? Freeman is pretty close, too, but the Kimbrel situation actually seems to warrant the hearing -- being $2.45 million apart is rather significant.