Braves leave highest-paid player Dan Uggla off NLDS roster
The Braves announced their NLDS roster on Wednesday, and they left off their highest-paid player and two highest-paid starting pitchers.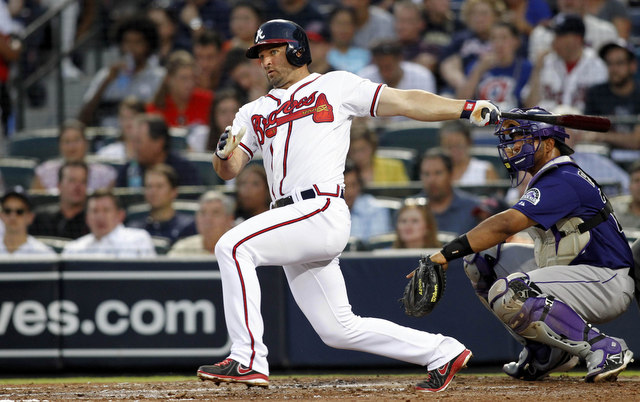 More NLDS: Braves vs. Dodgers: Who has the edge?
The Atlanta Braves announced their 25-man NLDS roster on Wednesday, and noticably absent was their highest paid player: second baseman Dan Uggla . He hit .179/.309/.362 (83 OPS+) with 22 home runs this year -- including .122/.295/.184 (40 OPS+) in September -- while earning $13 million.
With Uggla off the roster, Elliot Johnson is expected to start at second base for Atlanta in the postseason. Here is the roster the team announced:
Catchers: Brian McCann , Gerald Laird and Evan Gattis .

Infielders: Freddie Freeman , Elliot Johnson , Andrelton Simmons , Chris Johnson and Paul Janish .

Outfielders: Jason Heyward , Melvin Upton , Justin Upton , Reed Johnson , Jordan Schafer and Jose Constanza .

Rotation: Kris Medlen , Mike Minor and Julio Teheran .

Bullpen: Luis Avilan (L), Luis Ayala , David Carpenter , Freddy Garcia , David Hale , Craig Kimbrel , Jordan Walden and Alex Wood (L).
The team is leaning towards starting Garcia in Game 4, if necessary. Left-handers Paul Maholm (10-11, 4.41) and Scott Downs (2.49 ERA) join Uggla as notable omissions. Maholm and the injured Tim Hudson are the team's two highest paid starting pitchers.
The Braves open their best-of-5 NLDS matchup with the Dodgers at Turner Field in Atlanta at 8:30 p.m. ET on Thursday.
Monday kicks off the final week of MLB action. Let's take a look at everything that went d...

No other rookie in baseball history has hit more home runs than Judge has this year

Jays have said goodbye to Encarnacion and will to Bautista. Should they move on from Donaldson,...
Judge's big September means Jose Altuve has some serious competition for the award

Goldschmidt? Rendon? Blackmon? Stanton if he hits 62 HR? Who would be your pick?

Bruce Maxwell of the A's has been kneeling during the national anthem