Braves make big splash in reeling in center fielder B.J. Upton
Not expected to re-sign center fielder Michael Bourn, the Braves make a pre-emptive move to sign B.J. Upton -- and position themselves to remain NL East contenders in the process.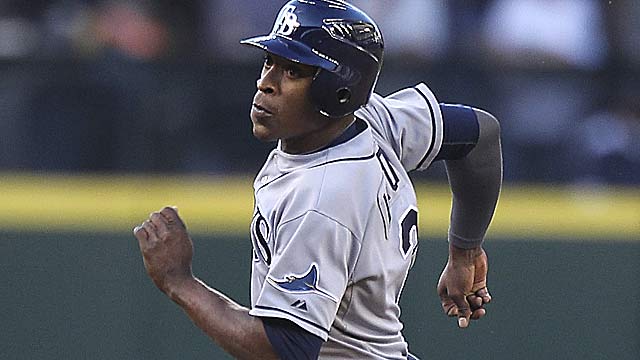 B.J. Upton provides the Braves with a much needed productive right-hander hitter.
(Getty Images)
The Upton Supremacy?
Sounds pretty good right about now to the Braves, whose bid for enigmatic slugger B.J. Upton means bidding farewell to center fielder Michael Bourn.
It's a swap the Braves clearly will take, having opened their wallets to complete what will be the biggest free-agent financial outlay in club history. Upton and the club agreed to a five-year, $75.25 million deal that is expected to be announced later this week, after Upton completes a physical exam.
While stretching the imagination of how Atlanta has approached free agency in the past, the Upton deal immediately positions the Braves to remain contenders in a fierce NL East.
"That's a good spot for him," one executive said Wednesday, before chuckling: "Atlanta always cries poverty. I guess they had some money to play with."
No kidding, and it ain't Monopoly money, either.
With the Bourn talks protracted and the Braves not expected to wind up in the same financial neighborhood as his agent, Scott Boras, likely will command, Atlanta quickly zeroed in on Upton.
The Braves needed a big-hitter, particularly a big right-handed hitter to balance lefties Brian McCann, Freddie Freeman and Justin Heyward. Upton over the past two seasons has socked 51 homers and collected 159 RBI.
And the thing is, many in the industry think there's more where that came from. Which makes Atlanta's $75 million outlay risky in that, it's a whole heck of a lot of money for someone who has yet to produce consistently over a full summer ... but, at 28, there is every reason to believe that Upton's best could still be in front of him.
"He's a tool shed, but his instincts are suspect," one scout assessed, referring to the multi-faceted tools Upton possesses. "He's a really talented guy. You just don't know what you're going to get sometimes."
Upton's power and speed combination is rare. He was one of only three players in the majors last season with at least 25 homers and 30 steals, joining the Angels' Mike Trout and the Brewers' Ryan Braun. During his six full seasons in Tampa Bay, Upton became the only Rays player in history to compile two seasons with 20 or more home runs and 30 or more steals.
As frustrating as Upton could be at times for Tampa Bay when he would disappear into one of his funks at the plate, the Rays loved his production during crunch time. Upton was one of the keys to Tampa Bay developing a winning culture, which no doubt also is part of the Braves' attraction.
As the Rays battled for what would have been a fourth  postseason appearance in five seasons in 2012, Upton hit 10 home runs during the Rays' final 23 games.
He also hit 18 over the season's final 50 games, the most in the majors during that stretch. And his 12 September homers were the most in the majors for that month as well.
But with that power comes strikeouts, many of them, which is where Braves hitting coach Greg Walker will come in. Upton whiffed 169 times last season, tied for sixth in the majors. The scenery there is familiar: Upton has ranked among the top six in the majors in strikeouts now for six consecutive seasons.
But for all of those punchouts, there's this: In helping the Rays to the 2010 AL East crown, Upton became just the fifth center fielder in American League history to reach 60 extra-base hits and 40 thefts in a season, joining Ty Cobb, Tris Speaker, Rickey Henderson and Johnny Damon.
And this August, he became just the eighth player in major-league history to reach 100 homers and 200 steals before turning 28, joining Henderson, Cesar Cedeno, Barry Bonds, Bobby Bonds, Eric Davis, Lloyd Moseby and Hanley Ramirez.
As the Braves step into the deep end of the free-agent pool, these are the kinds of numbers, more than the strikeouts, that they see.
This is a lot of money if Upton doesn't get any better than he is right now, which already is pretty darned good.
And if he can tap into his stretch-run ability a little more often earlier in the summer? This will be a deal the Braves will not regret, because they'll be stacking up wins the way Upton does thefts.
The projections continue to favor an Astros-Dodgers World Series

The story centers around a building in Chicago, where Billy Jurges was shot by a jilted lo...

From 1 to 25, the L.A. Dodgers have the squad to overcome the pitfalls of October baseball
After Tuesday night's win over the Cubs, the Dodgers are now 6-0 in the 2017 playoffs

Los Angeles beat Chicago once more in Game 3 of the NLCS in Chicago

The 2017 World Series begins Oct. 24