Braves make the right bet; Ervin Santana makes a big bet on himself
Ervin Santana is taking a chance by signing a one-year deal with the Braves.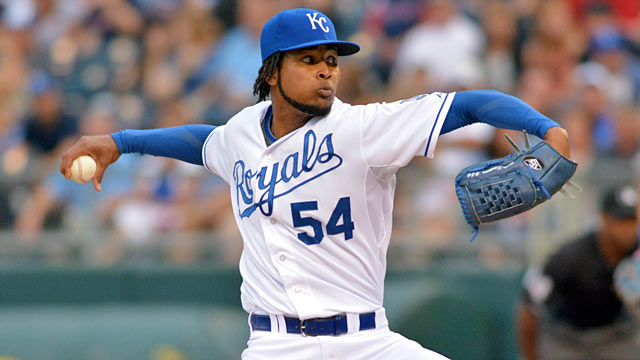 MORE: Spring Training | Scoreboard | FA tracker: hitters | FA tracker: pitchers
The Braves made the right choice betting on reliable right-hander Ervin Santana to bail them out of their sudden pitching dilemma.
Santana made an unusual choice.
Santana chose a do-over on the qualifying offer, according to sources accepting a one-year offer for $14.1 million from Atlanta, the very same figure he turned down from the Royals as the qualifying offer.
Santana's new solo agent Jay Alou, who broke away and took Santana away from the Proformance agency in the week before Santana signed, vowed at one point that he's "not taking a penny less" than the qualifying offer, and he made good on that vow.
But now comes the harder part for Santana. He has been a dependable pitcher for most of his nine seasons. But by taking a one-year deal, now he has to do it again.
The Braves are making a wise bet, there's little question about that. They are very concerned about Kris Medlen, who was to be their Opening Day starter and has an issue with his ulnar collateral ligament, and somewhat concerned about Brandon Beachy, who is to miss a spring start, also with an elbow issue.
The Braves had no choice. They had to do something.
Santana did have choices.
Santana chose to make a big bet, on himself. Not too many players (or people) are willing to do that.
He gets credit for courage. There's little question he could have gotten $30M plus elsewhere on a three-year deal. but he's willing to take half that on a guarantee, and try to "re-prove" himself with another good year this year.
Of course, there are no guarantees in free agency, as Santana found out this year. Santana had a great year last year with the Royals -- by any standard he was a top-15 pitcher in the American League -- and he couldn't come close to what he sought in free agency since he was saddled with the draft choice compensation issue via the qualifying offer. The draft compensation has proved to be a bane for very good free agents, and two of them, Kendrys Morales and Stephen Drew, remain free agents.
While Santana couldn't get his original asking price, he did have have interest on three-year deals from a couple teams, possibly the Orioles as well as the Twins. The Orioles reportedly would have paid $30 million, or perhaps a bit more.
Instead, he is taking a chance he will repeat his performance of most years in 2014. Santana has been a dependable pitcher, and has pitched at the level of a No. 3 starter (or better) most years, the one obvious exception being 2012, when as an Angel he led the league in homers allowed.
If he has his usual solid year, he gets a qualifying offer likely to be $15M-plus from the Braves, giving him close to that $30 million guarantee if he takes it. But if he doesn't, he may struggle to recover that extra money he gave up.
While it's refreshing in a way to see someone bet on themselves, there are no guarantees.
The Jays offered $14 million, too, on a one-year deal, while the Orioles were said to have offered slightly less than that, about $12 million, on a one-year deal. But word is, Santana preferred the National League.
It's hard to blame Santana for taking the Braves. They are perennially a contending team, and they play in the National League, which is generally a bit kinder to pitchers.
Santana may win a few more games pitching for the Braves, his ERA may look a bit better and it's understandable wanting to pitch for a good team. But of course that guarantees nothing in free agency. Team executives are sophisticated enough to look way beyond won-loss records when it comes to contracts.
Santana got a do-over on the qualifying offer he turned down. But it's possible he could be back in the same predicament again next winter.
The Cubs are facing a right-handed starter for the first time in the NLCS

The Red Sox should probably just lay low on Twitter for a while

The Yankees have lacked production out of the DH spot so far in the postseason
Frazier has come up with big hits, but his greatest impact may have come in the clubhouse

The Dodgers are trying to claim a commanding 3-0 lead on the road

The Astros are trying to rebound from a Game 3 drubbing in their first game in the Bronx