Braves name Julio Teheran opening day starter in wake of injuries
After injuries decimated their rotation earlier this spring, the Braves named Julio Teheran their opening day starter on Saturday.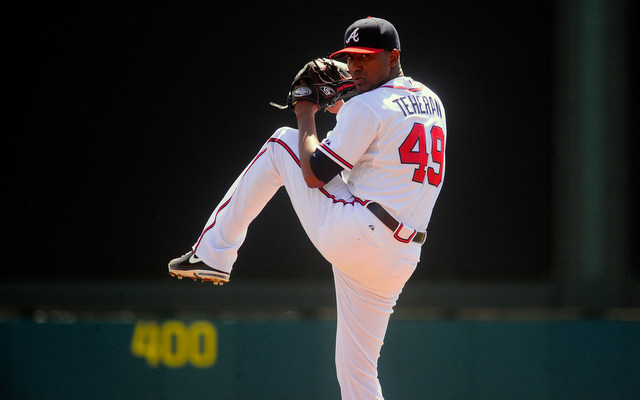 MORE: Spring Training | Scoreboard | Team previews
The Braves officially named right-hander Julio Teheran their opening day starter on Saturday, according to MLB.com's Mark Bowman. He will be the team's fourth different opening day starter in the last four years, joining Tim Hudson (2013), Tommy Hanson (2012) and Derek Lowe (2011).
Teheran, 23, went 14-8 with a 3.20 ERA (121 ERA+) and a 3.78 K/BB ratio in 185 2/3 innings across 30 starts last season, a performance that earned him a fifth place finish in the NL Rookie of the Year voting. Atlanta gave him a six-year, $32.4 million extension over the winter as they locked up their young core.
Right-hander Kris Medlen was likely to get the opening day nod, but he blew out his elbow a few weeks ago and needed his second career Tommy John surgery. Righty Brandon Beachy also underwent his second Tommy John surgery this spring.
The Braves signed Ervin Santana to a one-year deal to cover for the injuries, and Bowman says he could make his season debut on April 9. He is a bit behind the other pitchers after signing so late.
In addition to Teheran and Santana, the Braves will also have Freddy Garcia, Alex Wood and David Hale in their opening day rotation. Mike Minor will start the season on the DL after being slowed by a shoulder problem in camp.