Braves out-perform their payroll like almost no one else
The Upton Era starts with a bang in Atlanta, one reason the Braves had won 10 in a row before Wednesday's loss to the Royals.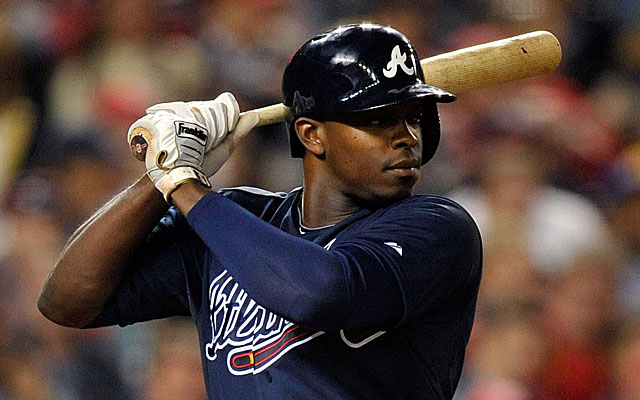 The Atlanta Braves have shown over the past few years that they are pretty darned good at doing a lot with less. Since the start of 2009, in fact, no team has won more while spending less money.
But now, the Braves are taking it to a new level. Without injured catcher Brian McCann, pitchers Jonny Venters and Brandon Beachy and at least for the last few games first baseman Freddie Freeman, the Braves are off to a 12-2 start to begin the Upton Era in Atlanta. The Braves had won 10 in a row until losing 1-0 at home to the Royals on Wednesday afternoon.
Excitement is building around the team, which drew 26,000 for a Tuesday night game against the Royals, a really good sign for them. And no wonder. They look like world beaters so far.
"Our pitching has been really good from top to bottom. We believed that would be a strength of our ballclub,'' general manager Frank Wren said. "And we are getting big hits at big moments -- that's the sign of a pretty good team. But the schedule will tell us just how good we are.''
The Braves' 1.83 ERA entering Wednesday's play is more than a run better than the second-best mark in the National League, the Dodgers, who have a 3.14 ERA. The Braves' 25 home runs lead the majors, and their .473 slugging percentage is tops for teams not playing home games in Coors Field (the Rockies have a slightly higher slugging percentage).
Nobody is hitting better than new Brave Justin Upton, who leads the National League with eight home runs and a 1.304 OPS before Thursday as he begins to show signs of fulfilling the promise that folks expected of him when he was selected first in the monster draft of 2005. The Braves got him and Chris Johnson (batting .415) in a late-winter trade from Arizona, where their key trading chips were Martin Prado, a very nice and versatile player who's no Justin Upton, plus Randall Delgado, whom the Braves didn't have as high as Julio Teheran on their pecking order of many talented young pitchers.
The Upton trade followed by several weeks the Braves' signing of older brother B.J. Upton and made them the centerpiece of the first team in the Post-Chipper Era. The second Upton was not part of the original plan but fell into their lap following Justin's rejection of a trade to the Mariners.
"Quite frankly, I don't think any of us thought it was a realistic possibility until we got deeper into the winter,'' Wren said.
The Upton brothers are the focal point of the youngest team in baseball (the average age is just under 28) and one of the most powerful. But they aren't a perfect team, and they knew that. They don't have a proven, prototypical leadoff hitter. And they strike out a lot.
"In a perfect world you'd have [a leadoff hitter], but I don't think there are any perfect teams,'' Wren said. "The leadoff hitter comes up one time in the game [in that spot]. We felt like we'd rather have more dynamic players with the ability to drive the ball.''
They were happy to sign B.J. Upton (to a $75.2 million, five-year deal) but saw him as a middle-of-the-order bat. They're trying talented young shortstop Andrelton Simmons in the leadoff spot instead.
Any way they order it, the strikeouts are going to add up. Their 110 whiffs aren't in the same league with the Astros' 140 but still represent the fifth-highest total in baseball.
"They're going to come. We knew that going in,'' Wren said of the whiffs. "We went in with our eyes wide open. If you believe sabremetrics, which I tend to be mixed on, it'll tell you that strikeouts don't matter. Hopefully, we're going to prove that theory.''
The Braves have been defying the dollars for years. Their hot start highlights their efficiency. Until the Braves' 12-2 beginning, the Rays were the one team that had won more games while spending less since the start of '09, but Atlanta now has won seven more games.
Interestingly, the Braves are doing it without major contributions so far from B.J. Upton, who is batting .152, or Jason Heyward, the other man in the mostly Upton outfield, who is hitting .116. Heyward hit a home run in the 10th straight victory, and hitting coach Greg Walker is said by team insiders to have found something in B.J.'s swing, giving hope for a hot streak from him.
The Braves have done it all without having a top-five draft pick since Chipper Jones and Mike Kelly in 1990 and '91. They've had some excellent drafts, anyway, and also made some bargain pickups. For instance, they got Eric O'Flaherty on a $20,000 waiver claim from the Mariners.
The Braves' $91 million total payroll basically hasn't changed in a half-dozen years, even as baseball revenues have risen.
"We know we have to do it with homegrown players. Our pitching staff is a good example of that. Our bullpen is a really good example of that,'' said Wren. "Our scouts have done a fine job of identifying good players.''
One great example is Evan Gattis, who has four home runs already and was a 23rd-round draft choice who had been derailed earlier by a bout of depression. He bounced around, working as a janitor, valet and ski-lift operator before the Braves took a chance on him in the 2010 draft. Gattis began to open eyes a year ago in spring training and early last season before suffering a wrist injury.
Gattis dominated in the Venezuela winter league and was seen as a left-field option until the Justin Upton trade. When Gattis kept it going into spring training, the Braves found a spot on the roster as a catcher, where he's impressing both ways.
Veteran star catcher Brian McCann, who had shoulder surgery six months ago, is expected back around May 1. Even so, the Braves will make room for Gattis, as well, assuming he's still hitting.
Freeman started batting practice on Wednesday and hopes to return next week. Venters could be back about June 1 after a month-long shutdown. And they're hoping Beachy might be ready to go by the third week in June.
In the meantime, the Braves will hope to do what they do best, which is out-perform their active payroll.
The record of 38 previously belonged to Hall of Famer Frank Robinson

The report also says that Jeter had outgoing president David Samson do the firing

This wasn't a traditional hidden ball trick, but the Blue Jays pulled it off
The Tigers essentially fired Brad Ausmus on Friday, but things are going to be ugly for a...

The club made the announcement on Friday

Plus the Tigers will make a change in the dugout and all of Friday's action