Braves receiving racial letters regarding Hank Aaron's comments
After making comments that seemed to compare republicans who oppose President Obama to the KKK, Hank Aaron has been the target of hundreds of complaints, including some racially-charged ones.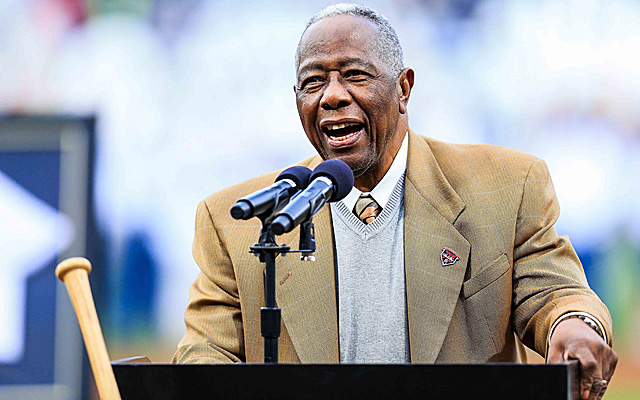 More MLB: Power Rankings | Expert Picks | Latest news & notes | Fantasy news
Last week, MLB legend Hank Aaron was honored in Atlanta on the 40th anniversary of his breaking of Babe Ruth's career home run record. Around the same time, he was interviewed by USA Today and made the following comment that spread like wildfire around the Internet:
"We can talk about baseball. Talk about politics. Sure, this country has a black president, but when you look at a black president, President Obama is left with his foot stuck in the mud from all of the Republicans with the way he's treated.

"We have moved in the right direction, and there have been improvements, but we still have a long ways to go in the country.

"The bigger difference is that back then they had hoods. Now they have neckties and starched shirts."
And now for the aftermath, in which USA Today reports that letters -- mostly emails, from the sounds of it -- have "poured into" Braves offices this past week on the matter. "Hundreds" of letters, emails and phone calls have been received on the above comments. Some sound pretty ugly, like this one from a person named Edward:
"Hank Aaron is a scumbag piece of [expletive] [racial slur] ... My old man instilled in my mind from a young age, the only good [racial slur] is a dead [racial slur]."
Whether one agrees with Aaron or not, I think most of us would agree there's a certain level of civility that needs to be met and Edward falls well short of that.
Marion calls Aaron a "racist scumbag.'' Ronald won't attend another Braves' game until Aaron is fired. Mark calls Aaron a "classless racist.'' David says that he will burn Aaron's I Had A Hammer autobiography.
Aaron, 80, is the senior vice president for the Braves. The club hasn't yet commented publicly about the situation.
The Red Sox and Cardinals are expected to make trade offers next

The free agent first baseman may be a fit in St. Louis

The front office changes in Atlanta continue
The Marlins are more likely than you think on our list

Judge finished a distant second in the balloting and he paid respect to the winner

Stanton just won the 2017 NL MVP award but could wind up being dealt this offseason