Braves set for surplus of starting pitching
After being desperate for starters in the spring, the Braves now have a surplus of quality starting pitching with Mike Minor and Gavin Floyd ready to join the club.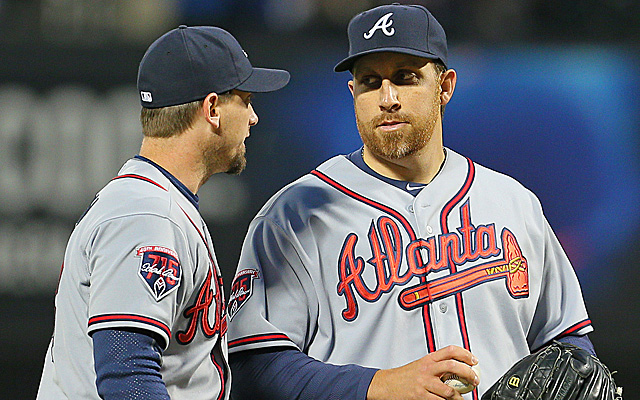 More MLB: Power Rankings | Expert Picks | Latest news & notes | Fantasy news
Remember when the Braves lost Brandon Beachy and Kris Medlen for the season? Remember how it looked like they wouldn't be able to throw together a starting rotation with major-league-caliber arms?
Though the Marlins have done a serious number on the to-date numbers these past two nights, it's still fair to say the Braves had the best starting pitching in the majors this April. In 26 games, Braves starters posted a 2.32 ERA for the month.
Again, this was a club that lost two members of its prospective rotation in the spring and had to sign a free agent late (Ervin Santana) and grab a guy that Cleveland cut (Aaron Harang) just to fill out the rotation.
And now, the Braves are about to have seven able-bodied starters.
Mike Minor is set for his 2014 debut on Friday, which pushed David Hale to the bullpen.
Next up, Gavin Floyd will join the club this coming weekend, reports ajc.com.
So now they have a nice problem.
Julio Teheran, Santana and Minor aren't going anywhere. Even after getting knocked around the yard Wednesday night, Harang can't be booted from the rotation after his outstanding April. Alex Wood is a 23-year-old left-hander with a 3.28 ERA and 91 strikeouts in 96 innings in his career as a starter. His upside is pretty big. They can't demote him, can they? Braves manager Fredi Gonzalez said no, per ajc.com.
Floyd can refuse an assignment to the minors and his rehab stint has to end by Sunday, so a decision has to be made. Of his 199 career appearances at the big-league level, 187 have been starts. He started in all six of his rehab appearances, in which he had a 4.12 ERA. He was very good in his last two Triple-A tuneups, though (2.61 ERA).
Still, the Braves don't need him in the rotation right now unless they go to a six-man rotation, which doesn't seem to make sense as well as the starters have been throwing overall. The best guess is Floyd begins in the bullpen and is only used when there's a spot in the rotation due to injury or underperformance.
In fact, I'll throw out a prediction here that it's Harang's spot that Floyd eventually takes. I'm not sure Tuesday night will definitely be the beginning of the end for Harang, but he turns 36 years old within the next few weeks. He was 5-12 with a 5.40 ERA last season for the Mariners and Mets. He couldn't make the Indians' sub-par rotation out of spring and was pitching way over his head until Tuesday's debacle.
Come June, I'll predict the Braves rotation is Teheran, Santana, Minor, Wood and Floyd with Hale as the sixth option.
Bold? Probably not. Harsh? Probably. Accurate? You make the call.
Boston wants to add two big bats to their lineup, not just one

Even more relievers signed on the final day of the Winter Meetings

Keep tabs on the top 50 free agents right here
The league is not happy Ohtani's medical information leaked

Kansas City and Baltimore were quite busy at the Rule 5 Draft

Piscotty's mother was diagnosed with ALS earlier this year