Braves still have time and options following rash of pitching injuries
The Braves' pitching staff has been hit hard by injuries in camp, but they don't need to rush into any moves before the start of the season.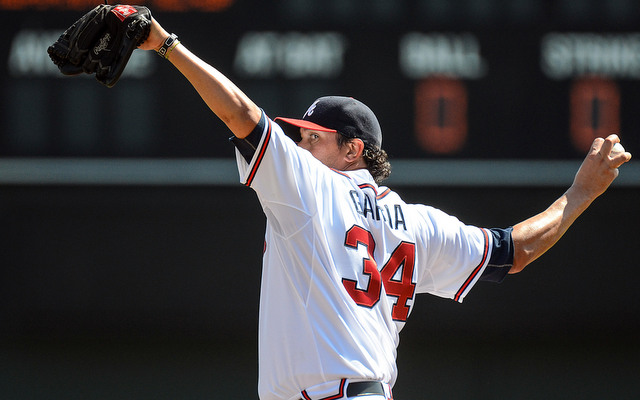 MORE: Spring Training | Scoreboard | FA tracker: hitters | FA tracker: pitchers
These last few days have not been kind to the Braves. Both Kris Medlen (Sunday) and Brandon Beachy (Monday) left their last start early with elbow ligament damage and biceps tightness, respectively, meaning they'll join Mike Minor on the sidelines for the foreseeable future. The left-hander is nursing a shoulder problem.
Three of the team's projected top four starters are currently hurt, with Julio Teheran the only exception. Things are getting so bad that manager Fredi Gonzalez said "thank God we signed Freddy Garcia" on Monday, referring to the 37-year-old junkballer who has 86 ERA+ over the last two seasons. Teheran and Garcia figure to be joined by Alex Wood and David Hale in the rotation thanks to the injuries.
The regular season begins in a little less than three weeks, so Atlanta has a real pitching problem on its hands. Medlen is heading for a second opinion and it seems like he is a no-go for the start of the season. Beachy and Minor (who has not yet pitched in a spring game) would have to heal up real quick to be ready for opening day. What do the Braves do now? I see four options.
Go Big: Sign Ervin Santana
We heard the Braves are making a run at the free agent right-hander on Monday, though it's unclear how serious they are about signing him. This would be the ideal solution, though it would require the team to raise payroll to a point where it hasn't been in years. They'd also have to surrender their first round pick. Santana might be in play here, but if the Braves sign him, they would be stretching payroll and forfeiting a precious draft pick. The severity of Medlen's injury, which I assume we'll know relatively soon, could influence their pursuit.
Go Small: Minor trades
The Braves have already made a small trade for pitching help, acquiring righty Zach Stewart from the White Sox for cash on Monday. The 27-year-old had a 4.25 ERA in 167 1/3 innings in Triple-A last season and owns a 64 ERA+ in 103 career big league innings. Trades don't get much more minor.
There aren't many teams with pitching depth to spare, though the Yankees (David Phelps, Adam Warren, Vidal Nuno) and Twins (Samuel Deduno, Scott Diamond, Vance Worley) are two teams with an extra back-end arm or two to deal. The Braves have some bullpen and infield pieces to offer in trades, but I doubt they'd fetch much of anything for the overpriced and underproductive Dan Uggla.
Go Smaller: Scrap heap free agents
What does the free agent pitching market look like on March 11? Aside from Santana, you've got Jon Garland, Jair Jurrjens, Jeff Niemann, Clayton Richard and Barry Zito. That's pretty much it. Both Zito and Garland are taking a break from baseball while Niemann (shoulder), Richard (clavicle) and Jurrjens (knee) are all coming off injury. That is a questionable group at best, though they are all freely available and could sign today if they wanted.
Stand Pat
Doing nothing is always an option. It's not always the best option, but it is an option. Thanks to early-season off-days, the Braves won't need a fifth starter until the second Saturday of the season, April 12. They can get through their first 10 games with only four starters, though a rain out would throw a wrench into things.
Minor is slowly working his way back from his shoulder problem and could soon make his spring debut, meaning he might be ready in time to join the rotation for that April 12 start. Gavin Floyd, who is rehabbing from Tommy John surgery, is targeting a May return, so he is still a non-factor for a little while. The Braves have the option of standing pat and seeing how Minor (and Beachy) progress the next few weeks before making a decision about their rotation. 
---
GM Frank Wren charitably described his rotation situation as "worrisome" on Monday following the Medlen update, but panic moves are never the way to go. Unless they're going to open their wallet to sign Santana, I think the team's best course of action is to stand pat, at least through the end of spring training. Other clubs will finalize their rosters relatively soon and some more arms may become available through trades or on waivers, where the Braves have had a lot of success in recent years (Eric O'Flaherty, David Carpenter, etc.).
The Medlen injury seems like it could be very bad news that will keep him out for quite some time -- when has anyone ever returned quickly from a ligament injury? -- but Minor, Beachy and Floyd are on the mend. If one of those three, particularly Minor, suffers a setback, then Wren might be forced to make a move for an established or semi-established starter. Right now, everyone knows the club is dealing with pitching injuries, so prices have gone up, both for free agents and in trades. The games the Braves are playing now are meaningless, so they can afford to be patient.
Francisco leads the Dominican Winter League with seven home runs

Thome deserves enshrinement and here's why the case against him does not hold up

The Twins have already fortified the bullpen with Addison Reed, and now they want to address...
The Orioles likely want pitching, and the Indians have plenty of it

Halladay died in a November plane crash off the coast of Florida

The power-hitting outfielder is headed to Toronto