Braves to relocate to new ballpark in Cobb County for 2017 season
With their lease at Turner Field set to expire following the 2016 season, the Braves are planning to relocate to a new ballpark in Cobb County.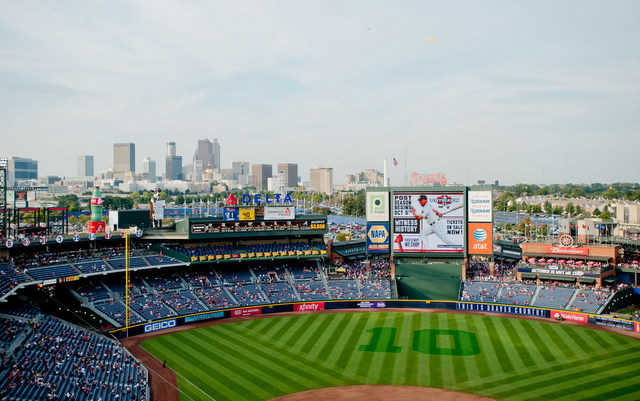 The Atlanta Braves will relocate to a "world-class stadium" in Cobb County for the 2017 season, the team announced. The Marietta Daily Journal first reported the news.
Turner Field opened in 1996 as the centerpiece of the Summer Olympics. The Braves began playing there in 1997 after it was converted into a baseball facility. The team's 20-year lease agreement expires following the 2016 season. Here's more from Tim Tucker of the Atlanta Journal-Constitution:
Braves executives John Schuerholz, Mike Plant and Derek Schiller said the new ballpark will be built near the intersection of I-75 and I-285 in the Galleria/Cumberland Mall area. They said the team has "secured" 60 acres of land for the project.

The Braves said the project will be built in partnership with Cobb County. They indicated that Cobb County would provide public funds toward building the stadium but declined to provide details on that.
The Braves have played in downtown Atlanta since 1966, when they moved from Milwaukee. Turner Field replaced Atlanta-Fulton County Stadium and is already the 17th-oldest ballpark in MLB. The team was able to keep this story remarkably quiet.
Cobb County is a suburban county located immediately outside the northwest city limits of Atlanta. The I-75 and I-285 intersection is approximately 10 miles from Turner Field.
The team will provide updates on the new project at HomeoftheBraves.com.
The slugger had shoulder surgery in November

Tebow reported to spring training with Mets position players on Sunday

Santa Clara senior Jake Brodt did the honors Saturday
Eric Hosmer's eight-year contract with San Diego has wide-ranging ramifications

Keep tabs on the top 50 free agents right here

The Padres have been heavily connected with Hosmer all offseason