Breaking down Fred McGriff's Hall of Fame case
Fred McGriff had a long career and fell just short of the 500 home run plateau. If he Cooperstown worthy anyway?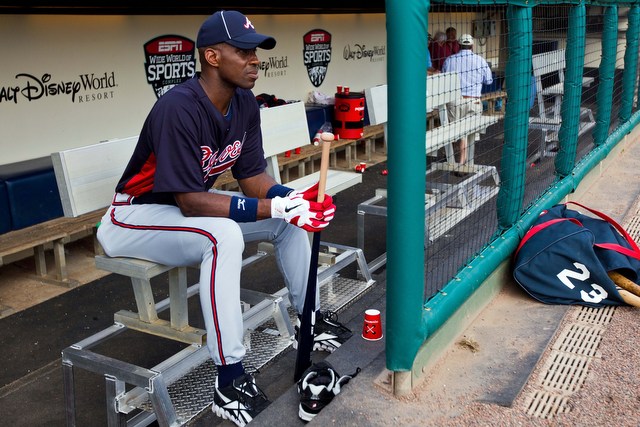 Hall of Fame: Cox, La Russa, Torre get in | Miller snubbed | Steinbrenner's complicated case | One-and-done candidates | Luis Gonzalez's case | Moises Alou's case | Lee Smith's case
The BBWAA Hall of Fame announcement is less than a month away, and since the hot stove figures to cool down during the holidays, we're going to take advantage of the downtime by breaking down each of the Hall of Fame candidates individually.
The idea is simple: we'll attempt to paint an argument as each player being a Hall of Famer and then create an argument as to why the player is not a Hall of Famer. Some will be easier than others -- the case against Greg Maddux might be a sentence or two long, for example -- but most are not that obvious. When we're done, you can decide for yourself if the player is Cooperstown worthy.
Today we're going to cover first baseman Fred McGriff.
THE BARE ESSENTIALS
McGriff played in parts of 19 big league seasons from 1986-2004, suiting up for the Blue Jays, Padres, Braves, Devil Rays (two stints), Cubs and Dodgers after being drafted by the Yankees. He retired as a .284/.377/.509 (134 OPS+) hitter with 2,490 hits, 441 doubles, 493 home runs and 1,550 RBI.
This is McGriff's fifth year of Hall of Fame eligibility. In the first four, he appeared on 17.9 to 23.9 percent of the ballots, falling well short of the 75 percent needed for induction.
THE CASE FOR INDUCTION
McGriff, aka the Crime Dog, was one of the best power hitters of his generation. During his peak from 1988-94, he hit .288/.390/.545 (155 OPS+) with an average of 38 home runs and 104 RBI per 162 games. His 242 homers during that seven-season stretch were the most in baseball (by 24).
By leading the AL with 36 home runs in 1989 and the NL with 35 home runs in 1992, McGriff became the first player since the deadball era to lead both leagues in dingers. He also led the league in OPS (.924) and OPS+ (165) in 1989, as well as intentional walks (26) in 1991. There's the "he was feared!" element.
McGriff was a key contributor to the 1995 World Series winning Braves team, hitting .333/.415/.649 with four home runs in their 14 postseason games. He was a monster in the playoffs throughout his career, putting up a .303/.385/.532 batting line with 10 homers and 37 RBI in 50 October games.
Oddly enough, McGriff was an All-Star only five times despite receiving MVP votes in eight different seasons. He finished as high as fourth in the voting (1993) but also had two other top six (1989 and 1992) finishes. McGriff was named MVP of the 1994 All-Star Game after hitting a game-tying, two-run, pinch-hit homer off Lee Smith in the bottom of the ninth.
McGriff ranks 26th all-time in homers (493), 42nd in runs driven in (1,550), 77th in slugging percentage (.509), 78th in OPS (.886), 98th in hits (2,490), 113th in doubles (441), 116th in the offensive component of WAR (55.6), 119th in OPS (134), 165th in total WAR (52.6) and 193rd in on-base percentage (.377). It's not outrageous to call McGriff one of the 100 best hitters in baseball history.
This is somewhat trivial but it is kinda neat: McGriff ranks second all-time in games (1,826) and plate appearances (7,777) as a cleanup hitter. Only Eddie Murray (2,041 and 8,775, respectively) is ahead of him.
THE CASE AGAINST INDUCTION
Despite his production, McGriff was never really considered the best first baseman in baseball. He was overshadowed by Don Mattingly and Will Clark in the 1980s, then Frank Thomas, Mark McGwire, Jeff Bagwell and Rafael Palmeiro in the 1990s. By time his career started to wind down in the early 2000s, Jason Giambi, Albert Pujols and Todd Helton were putting up huge numbers at the position.
McGriff can be viewed as something of a compiler, hanging around despite hitting .236/.312/.404 (90 OPS+) in his final two seasons. His production slipped after the 1995 season -- he hit .285/.389/.541 (153 OPS+) from 1986-94 then .284/.367/.482 (119 OPS+) from 1995-2004 -- and while he was very good in the latter half of his career, he wasn't truly great, especially relative to other first baseman.
McGriff did not have a "signature moment" in his career. He did hit the first ever home run at the Skydome in Toronto and I suppose the homer in the 1994 All-Star Game was memorable, but that's pretty much it. In fact, the most memorable moment of his career may be this:
The Crime Dog falls into the "he was so good, he was boring" category. Just a consistently good player for a long time who did not have a crazy WOW year (career highs were 36 HR and 107 RBI). By WAR, his best season (6.2 in 1989) was only the 933rd best season by a position player in history.
---
Once upon a time, hitting 500 home runs was an automatic ticket to Cooperstown. That standard has changed a bit following the Steroid Era. McGriff fell seven homers short of that historic plateau and it would have been very interesting to see how old school voters treated him had it made it to 500. The Crime Dog would have been the 26th man in history to hit 500 homers but he is already the 26th man in history to hit 493 homers. Would the extra seven have made much of a difference?
Saturday: The cases for and against Don Mattingly.
Another team rumored to be interested in Stanton has confirmed their interest

Chris Woodward has spent the last two seasons with the Dodgers

We heard about it being awful for years, but was it?
Then again, three trades in four days might be behind Jerry Dipoto's usual pace

Ohtani is arguably the best hitter and pitcher in Japan

The O's need rotation help, and Cobb is available for hire