Breaking down Jeff Bagwell's Hall of Fame candidacy
Jeff Bagwell was one of the most dominant hitters in baseball history. This year will be his fourth attempt to get inducted into Cooperstown.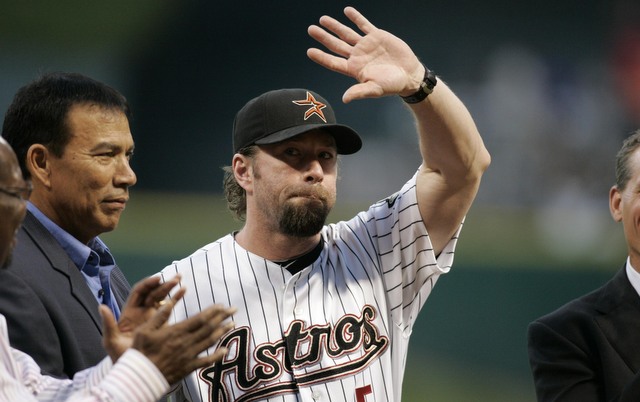 Hall of Fame cases: Luis Gonzalez | Moises Alou | Lee Smith | Fred McGriff | Don Mattingly | Jack Morris | Rafael Palmeiro | Sammy Sosa | Edgar Martinez | Jeff Kent | Alan Trammell | Larry Walker | Mark McGwire | Tom Glavine | Frank Thomas | Mike Piazza | Mike Mussina | Curt Schilling | Craig Biggio | Tim Raines
The BBWAA Hall of Fame announcement is just two days away now, so our series analyzing each of the candidates individually is coming to an end. We've been breaking down each candidate's cases for and against induction -- not advocating for or against induction, mind you -- and letting you decide if a player is Cooperstown worthy.
At this point of the series, we've reached the players whose cases for induction are greater than the cases against. These are the guys with the best chances to get into the Hall of Fame this year.
Today we're going to cover first baseman Jeff Bagwell.
THE BARE ESSENTIALS
Bagwell played 15 seasons in the big leagues from 1991-2005, all with the Astros. He retired as a career .297/.408/.540 (149 OPS+) hitter with 2,314 hits, 449 home runs, 1,529 RBI, 202 stolen bases and 79.5 WAR. Bagwell never won a World Series and he only played a small role during Houston's pennant-winning season in 2005 due to a shoulder injury.
This is Bagwell's fourth year of Hall of Fame eligibility. His support has gradually increased in recent years, from 41.7 percent in 2011 to 56.0 percent in 2012 to 59.6 percent in 2013. Players must appear on 75 percent of the ballots for induction.
THE CASE FOR INDUCTION
Simply put, Bagwell was one of the most devastating offensive players in baseball history. His peak was basically his entire career -- it wasn't until he started having serious shoulder problems in his final season that he posted a sub-116 OPS+. During his absolute best years from 1993-2000, Bagwell managed a .311/.428/.583 (164 OPS+) batting line while averaging 41 doubles, 38 home runs, 128 RBI and 21 steals per 162 games played. He was a monster.
Although it was cut short by the strike, Bagwell's 1994 season was one of the best offensive seasons in baseball history. He hit .368/.451/.750 (213 OPS+) with 32 doubles, 39 homers, 15 steals and 116 RBI in only 110 games. That 213 OPS+ is the 24th best single-season mark in history, or, to put it in another way, the eighth best single-season mark among hitters not named Babe Ruth, Ted Williams or Barry Bonds.
Bagwell is the best player (position player or pitcher) in Astros history by WAR, with a decent gap between him and number two/fellow Hall of Fame candidate Craig Biggio (79.5 to 64.9). Here is where he ranks in franchise history among the various offensive categories (min. 2,000 plate appearances for rate stats):
• First: Home runs (449), runs driven in (1,529), walks (1,401), batting average (.297) and OPS+ (149).
• Second: Games (2,150), plate appearances (9,431), runs (1,517), hits (2,314), total bases (4,213), doubles (488), on-base percentage (.408), slugging percentage (.540) and OPS (.948)
Bagwell is second in the counting stats to Biggio and second in the rate stats to Lance Berkman, who had 2,500 fewer plate appearances with the organization.
Among all players in history, Bagwell ranks 21st in OPS (.948), 28th in walks (1,401), 34th in slugging percentage (.540), 36th in home runs (449), 36th in OPS+ (149), 37th in WAR (79.5), 40th in on-base percentage (.408) and 47th in runs batted in (1,529). OPS+ and WAR account for ballpark and league factors, but it's worth noting Bagwell's counting stats would have been better had he not played the majority of his career in the pitcher-friendly Astrodome.
Bagwell was unanimously named the 1994 NL MVP following that monster campaign. He was also named the 1991 NL Rookie of the Year after hitting .294/.387/.437 (139 OPS+) with 26 doubles, 15 homers, 82 RBI and seven steals in 156 games. Bagwell received MVP votes in 10 different seasons and has two other top three finishes (second in 1999; third in 1997) on his resume.
THE CASE AGAINST INDUCTION
Pretty much the only case against Bagwell involves performance-enhancing drugs, or rather the suspicion of performance-enhancing drug use. He never failed a drug test and he was not named in the Mitchell Report. Bagwell did admit to taking androstenedione to the Houston Chronicle in 1998, though "andro" was not added to MLB's list of banned substances until 2004.
Bagwell was not a particularly strong defensive first baseman but his offense more than made up for it. The case against him revolves around the suspicion of PED use. That's it.
---
Statisically, I'm not sure there is any argument against Bagwell being a Hall of Famer. He put up huge numbers even relative to the rest of the league in an offensive era. The PED suspicion seems to be based on the fact that he was a big-time slugger in the since-dubbed Steroids Era, though I have to point out he aged pretty much exactly like you expect a player to age:
Bagwell was still a (very) productive player after turning 30, but he declined steadily in the latter half of his career.
Tuesday: The cases for and against both Barry Bonds and Roger Clemens.