Breaking down the underrated Hall of Fame case of Mike Mussina
Mike Mussina a Hall of Famer? His case is stronger than many might think. Come on in with an open mind and take a look.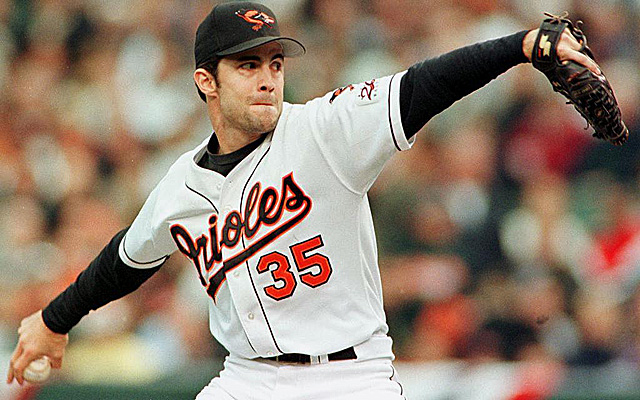 Hall of Fame cases: Luis Gonzalez | Moises Alou | Lee Smith | Fred McGriff | Don Mattingly | Jack Morris | Rafael Palmeiro | Sammy Sosa | Edgar Martinez | Jeff Kent | Alan Trammell | Larry Walker | Mark McGwire | Tom Glavine | Frank Thomas | Mike Piazza
Another day, another opportunity to run down the Hall of Fame cases both for and against a worthy candidate. For those unaware, we're going through one candidate per day up until the Jan. 8 BBWAA Hall of Fame announcement. We will post the cases for and against induction into the Hall of Fame and it's up to the reader to decide which argument is stronger.
Today's installment: Mike Mussina
THE BARE ESSENTIALS
In an 18-year career -- 10 with the Orioles, eight with the Yankees -- Mussina went 270-153 (.638) with a 3.68 ERA (123 ERA+), 1.19 WHIP, 2813 strikeouts, 57 complete games and 23 shutouts in 3562 2/3 innings pitched.
A five-time All-Star, Mussina finished in the top six of Cy Young voting nine times, topping out at second in 1999 -- when Pedro Martinez had a transcendent season with the ninth-best ERA+ in history and a 23-4 record.
In 16 different postseason series among nine seasons, Mussina went 7-8 with a 3.42 ERA, 1.10 WHIP and 145 strikeouts in 139 2/3 innings. He went to the World Series twice but finished his career without a ring. His record is partially due to bad run support, as nine times in 21 starts his team scored two runs or less for him.
In 2008, Mussina finished his career on a high note, winning 20 games in a season for the first time and finishing sixth in AL Cy Young voting.
THE CASE FOR INDUCTION
Mussina was consistenty among baseball's more durable workhorses. He made at least 30 starts 12 times and two other times would have if not for the 1994-95 strike. Eleven times Mussina threw at least 200 innings. His 43 complete games during his prime Orioles years (1992-2000) were topped only by Randy Johnson, Greg Maddux, Curt Schilling and Kevin Brown. Only Maddux and Tom Glavine compiled more innings from 1992-2003. For his entire career, Mussina is 66th in MLB history in innings pitched.
It wasn't just Mussina's workload that was notable, either. He was a winner. He won at least 15 games in 11 different seasons. Ignoring his 12-start rookie year, Mussina never won fewer than 11 games and he never had a losing record. His .638 winning percentage is 41st best in MLB history and better than Hall of Famers like Jim Palmer, Juan Marichal, Carl Hubbell, Bob Feller and Cy Young.
Mussina ranks 33rd in MLB history with 270 career wins. No, he didn't get to the arbitrary benchmark of 300 wins, but he still accrued more than Hall of Famers like Palmer, Feller, Hubbell and Bob Gibson.
[Oh, and Mussina ended with more wins and a better winning percentage than Mr. Pitch-to-the-score Jack Morris]
Mussina's case is much deeper than wins and being a workhorse, of course. Let's take a look.
Run prevention: He ranked in the top 10 of ERA in the AL 11 times and was in the top five six times. His 123 ERA+ ranks 90th in baseball history.
Keeping guys off base: Mussina ranked in the top 10 of AL WHIP 12 times. He was in the top five a whopping 10 times. Top three? Six times.
Control: Mussina's 3.583 strikeouts per walk is 15th best in baseball history. He ranked in the best 10 in the AL in walks per nine innings 15 of his 18 seasons.
Missing bats: He ranked in the top 10 in the AL in strikeouts and K/9 10 times each. His 2,813 career punch outs ranks 19th in big-league history.
Similars: Among his 10 most statistically comparable players, four (Marichal, Palmer, Hubbell and Clark Griffith) are Hall of Famers.
Mussina was a well-rounded pitcher, too, winning seven Gold Gloves. He went through eight different seasons without committing an error.
Unless someone is misguided enough to think a pitcher has to have at least 300 wins or 3,000 strikeouts -- there are dozens of starting pitchers in the Hall with neither -- Mussina's counting stats are Hall-worthy. His rate stats? Well, see above for ERA, WHIP, walk rate and strikeout rate. As for advanced stats? Mussina's 82.7 career bWAR ranks 24th in MLB history among pitchers, behind Roger Clemens, Greg Maddux, Randy Johnson, Pedro Martinez and 19 Hall of Famers. There are 57 current Hall of Fame pitchers.
THE CASE AGAINST INDUCTION
Mussina is clearly buried behind Clemens, Maddux, Johnson and Martinez when discussing the best pitchers of his era and he's arguably also behind Schilling and Glavine. Is being the seventh best starting pitcher from the era (20 years or so) good enough for the Hall of Fame? Some Small Hall people will surely say no (I'd say yes in this case -- and I'd also say Mussina isn't the worst of the bunch).
Playing for nine different playoff teams, Mussina's wins and winning percentage could be discounted by saying he was fortunate enough to play for good teams -- though that doesn't exactly explain why he was good at everything else.
The loudest arguments against Mussina are going to be either from the aforementioned Small Hall guys who think the Hall of Fame only has room for Greg Maddux types -- which is a change in direction to what the Hall has always been -- or mindless, anecdotal talk. Such as ...
"He just wasn't known as that great when he pitched."
"Sorry, but I don't remember thinking of him as a Hall of Famer when he played."
"He doesn't pass the eye test as a Hall of Famer."
"If you have to think about it, he's not a Hall of Famer."
---
This is Mussina's first go-round on the ballot and it's an incredibly loaded ballot. Not only that, but in the minds of the BBWAA voting body, he is squarely behind fellow first-timers Maddux and Glavine. Thus, induction on his first try isn't going to happen. Next year, Martinez and Johnson join the fray, so it won't be next year either. Schilling may also be ahead of Mussina in line.
Mussina may eventually make it on a Bert Blyleven-like late run, but it won't be anytime soon. And he may not make it at all.
Up next: The cases for and against Curt Schilling
Sunday's MLB roundup features the D-Backs clinching a postseason spot and the Mariners going...

The 2017 season has been, by far, the worst season of Cabrera's career

The Mariners were eliminated from postseason contention with Sunday's loss
Maxwell became the first MLB player to kneel during the national anthem Saturday

The Blue Jays are not expected to bring Bautista back next season

The Dodgers have already clinched the NL West title, so the D-Backs will be a wild card te...