Brendan Ryan's days as Mariners' shortstop may be numbered
Mariners manager Eric Wedge is losing patience with shortstop Brendan Ryan. Ryan is hitting just .149 on the season -- "It's time for him to figure out what he needs to do to be successful," Wedge said.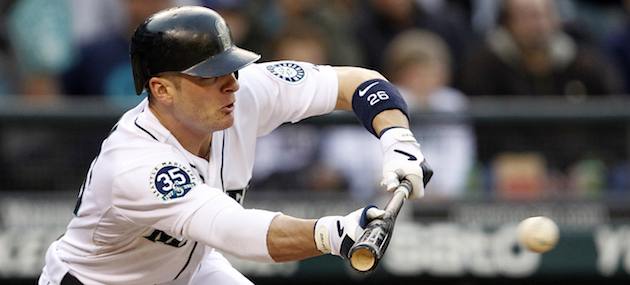 Brendan Ryan's time as the Mariners' shortstop may be running short. Ryan was benched for Saturday's game against the Yankees and he could see more games from that vantage point. Wedge also said he'd see about tomorrow.
"He's not 25 years old, he's 30 years old," Wedge told reporters,
including Geoff Baker of the Seattle Times
. "It's time for him to figure out what he needs to do to be successful. I can't be any more honest than that."
An excellent defensive shortstop, Ryan is hitting just .149/.267/.230. He's a career .250/.311/.334 hitter, but showed promise with the Cardinals in 2009 when he hit .292/.340/.400 in 129 games. However, he hit just .223 in 2010 and was jettisoned to Seattle, where he hit around his career averages in his first season.
This year, though, Ryan has been awful. From April 20 to May 4, he went 26 at-bats without a hit and is hitless in his last two games entering Saturday.
Wedge said Ryan needs to hit somewhere north of the Mendoza Line of .200 to be able to play everyday at shortstop, even with his outstanding glove.
"He should be better than that," Wedge said (
via the Times
). "Unless he's just totally swimming in his own brain up there and making it more difficult for himself. And that's exactly what he's doing right now."
Wedge started 30-year old Munenori Kawasaki at shortstop for Saturday. Kawasaki, in his first year in the United States, is hitting just .214/.313/.214. That would look bad most places, but when compared to Ryan, it looks pretty good.
Kawasaki probably isn't a long-term solution, and the team's top shortstop prospect, Nick Franklin, is in Double-A. There is a question, however, if Franklin can field the position. He's hitting .318/.373/.467 with two homers, but has seven errors in 22 games at shortstop so far this season.

The Twins have already fortified the bullpen with Addison Reed, and now they want to address...

The Orioles likely want pitching, and the Indians have plenty of it

Halladay died in a November plane crash off the coast of Florida
The power-hitting outfielder is headed to Toronto

Martinez could add some power to a Boston lineup void of it

It's almost that time of the year again, time for the Tebow madness to return