Brewers apologize for threatening to eject fan in 'Ryan Fraud' jersey
Apparently Brewers brass and Miller Park security weren't too amused by this fan's altered Ryan Braun jersey.
More: Braun: I'll speak when I can | What about Braun's MVP? | Bad luck on Braun memorabilia
Brewers slugger Ryan Braun, as we all know, is currently serving a 65-game suspension for his role in the Biogenesis scandal, and that suspension came after Braun's stern and repeated denials of ever using PEDs. All of this has caused not-insubstantial levels of outrage among baseball observers, and at least one hometown Brewers fan is none too pleased with Braun's deceptions.
On that front, Wisconsin's WTMJ-620 reports that Karen Eidem attended a recent Brewer game adorned in this altered Ryan Braun jersey: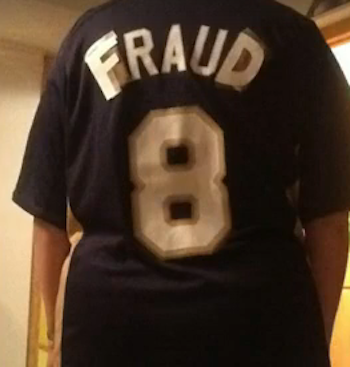 Harmless enough, no? Well, Miller Park security apparently saw this as a grave affront and commanded Eidem to change her shirt or be escorted off the premises. Eidem agreed to turn her shirt inside out and was allowed to remain in her seat.
Before anyone bellows anything about the First Amendment, recall that this is a private place of business, not any kind of governmental institution (laying aside for the moment that almost every professional sports team receives public monies in some form or fashion). Still, this is uptight and touchy in the extreme on the part of the Brewers, and hectoring fans for wearing something like this is absolutely bad business.
Thankfully, the team realized this pretty quickly and released the following statement:
"In this case, the fan absolutely should have been able to wear the jersey without any intervention by our staff. We welcome the opportunity for fans to express their opinions. The only circumstances that would warrant us intervening is if someone were to display a message or item that would be considered offensive to other fans. This is not a case where that line was crossed, and we're sorry for the inconvenience to her. We will reach out to Ms. Eidem to invite her to another game this year as our guest."
That is at it should be, although the urge to "intervene" should never have occurred to anyone in the first place.
As WTMJ notes, Eidem says she's not angry and will accept the Brewers' offer to make nice.
Oh, and speaking of Ryan Braun jerseys, WTMJ reports elsewhere that sales of Braun shirts are up of late. Whether for purposes of name alteration or defiant support isn't known at this time.
Developing!
Then again, three trades in four days might be behind Jerry Dipoto's usual pace

Ohtani is arguably the best hitter and pitcher in Japan

The O's need rotation help, and Cobb is available for hire
The Red Sox and Cardinals are expected to make trade offers next

The free agent first baseman may be a fit in St. Louis

The front office changes in Atlanta continue