Brewers big splash Red Sox, take EOB Heavyweight Championship
In just the second series of the season, we have our first title change. The Brewers have taken the prestigious belt from the Red Sox.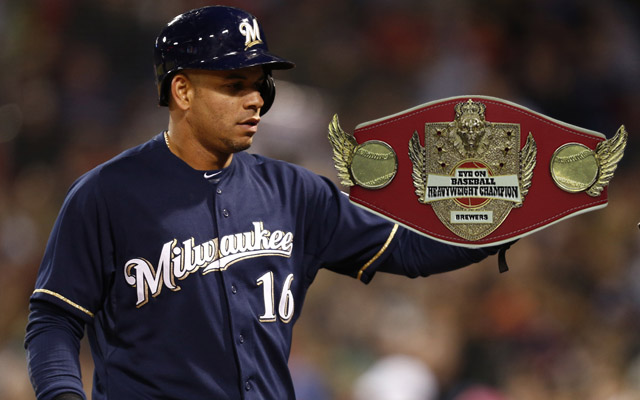 More MLB: Scoreboard | Standings | Probable Pitchers | Sortable Stats | Odds
The Brewers have taken the first two games of a three-game series against the Red Sox. In the grand scheme of things for the 2014 MLB regular season, it's not a huge deal. It is, however, a big deal in this space because that means we've already seen the Eye On Baseball Heavyweight Championship change hands for the first time this season.
For those unfamiliar with this fun little game we play, click here for a great explanation. Many of you will love it and many will hate it. The beauty is that those who hate can click away immediately and those who love it can keep reading. Internet, y'all!
And since WrestleMania is less than 24 hours away and the WWE Hall of Fame induction ceremony included the Ultimate Warrior Saturday night, let's use this clip as our vehicle.
Click here to skip to the finish, or watch below starting at the 27:00 mark:
That would be the mighty champion Boston Red Sox hulking up (coming back from multiple deficits to tie it up and send to extra innings) only to have the Brewers turn around and go with the surprising big splash in extra innings.
And now, the Milwaukee Brewers hold the utterly prestigious EOB Heavyweight Championship. They'll square off again with the Red Sox Sunday in Boston, but the series -- and, hence, the match -- is already concluded.
Up next: The Brewers will visit Philadelphia, where the Phillies will attempt to bring the esteemed belt to the home of Rocky Balboa.
Scott missed almost all of last season after a concussion

The superstar is one year away from free agency

The Angels knew about it and still wanted to sign the potential ace, of course
The Tigers asking price is supposedly very high, though

Your one-stop shop for all things MLB Winter Meetings-related

Bryan Mitchell also heads to San Diego in the reported deal