Brewers closer suffers a major knee injury taking off his shoe
Brewers reliever Will Smith tore his LCL while taking off his shoe. Yep.
Brewers reliever Will Smith was on track to at least share closing duties for the team this season. Instead, he'll go down as a Hall of Famer in the "Dumb Spring Training Injuries" category. Here's what went down, via the Milwaukee Journal Sentinel:
After pitching Thursday in a minor-league game, he returned to the clubhouse to shed his uniform and take a shower. He was standing up, removing a shoe, when he lost his balance and twisted the right knee.

"I was standing on one leg, trying to take the shoe off and I pulled hard and it stayed on. My knee just went up and popped," said Smith. "It sucks."
He pretty well summed it up with that last line. That does, really, suck.
The injury is a torn LCL (outside of the knee) and might require surgery. That decision will be made within the next few days.
What we do know is that suffering a major knee injury while taking off your shoe ... sucks.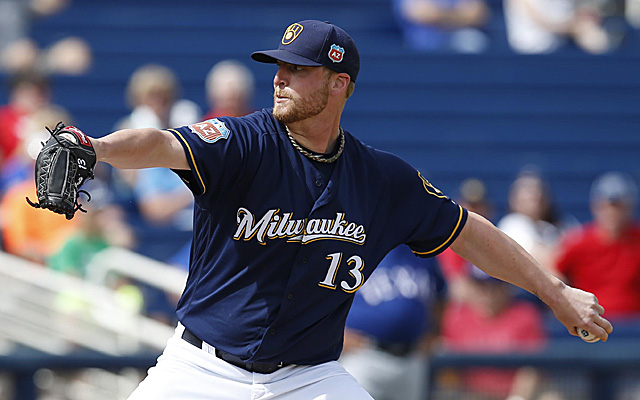 There's now a crowded outfield in San Diego

The former Braves star served as a race official for the Daytona 500

He'd be a good fit in the Bronx, but can they make it work and still stay under the luxury...
The slugger had shoulder surgery in November

Tebow reported to spring training with Mets position players on Sunday

Santa Clara senior Jake Brodt did the honors Saturday