Brewers finalize rotation, send Chris Narveson to the bullpen
Left-hander Chris Narveson will open the season in the Brewers' bullpen, manager Ron Roenicke announced.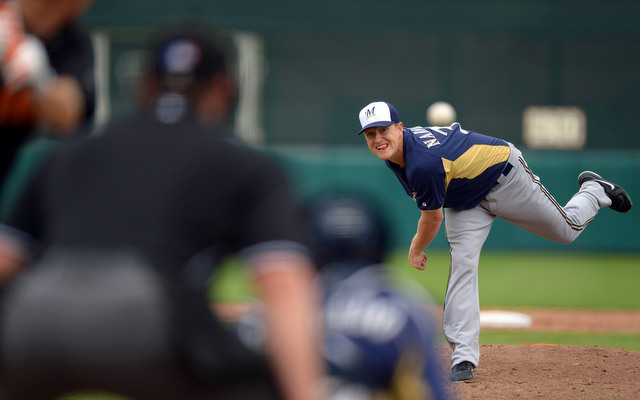 The Brewers finalized their opening day rotation on Friday, when manager Ron Roenicke announced right-hander Mike Fiers will get the fifth spot over left-hander Chris Narveson. Narveson will shift to the bullpen, a move that Roenicke said Saturday that Nerveson is on board with.
"It kind of gives you a little bit of a break between [spring training] and cranking things up," said Narveson to MLB.com's Adam McCalvy. "Considering it's 162 games, I'd rather be strong come August, September than be strong at the beginning and then all of a sudden you fade out to the end."
Narveson, 31, also referenced Braves right-hander Kris Medlen, who started last season in the bullpen before joining the rotation at midseason. "They kind of took it easy with [Medlen] at the start, and then all of a sudden when it comes down to crunch time and he's 'the guy,'" said the southpaw.
Narveson made just two starts last year before requiring season-ending rotator cuff surgery. He went 11-8 with a 4.45 ERA in 2011 and stressed on Saturday that he is healthy and could have started 2013 in the rotation. Narveson posted a 5.50 ERA in five spring training starts.
The Brewers signed Kyle Lohse to a three-year contract early last week, which basically pushed Narveson out of the rotation. Lohse had been working out in Arizona in recent weeks and is ready to go despite signing so late. The 27-year-old Fiers went 9-10 with a 3.74 ERA in 22 starts (and one relief appearance) last summer.
Lohse and Fiers will join Marco Estrada, rookie Wily Peralta and opening day starter Yovani Gallardo in the rotation.
Another team rumored to be interested in Stanton has confirmed their interest

Chris Woodward has spent the last two seasons with the Dodgers

We heard about it being awful for years, but was it?
Then again, three trades in four days might be behind Jerry Dipoto's usual pace

Ohtani is arguably the best hitter and pitcher in Japan

The O's need rotation help, and Cobb is available for hire