Brewers have been very good for two months, but now they need to be great for 10 more days
The Brewers can think back to all the games they lost in May, June and July, but in the words of Ryan Braun, they "can't un-lose" them. Their remarkable 32-game run has put them back in the wild-card race, but manager Ron Roenicke knows they'll need to be great for the next 10 days to have a chance to catch the Cardinals.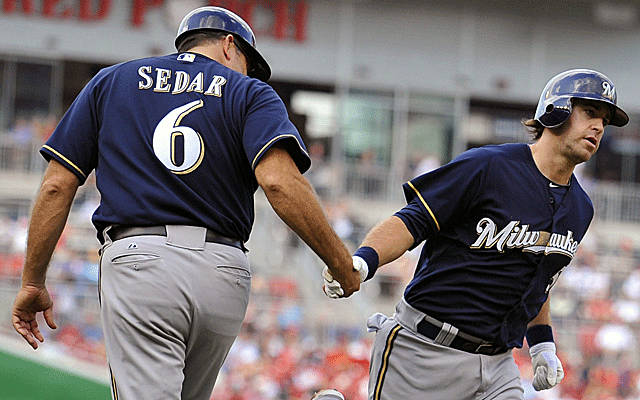 With the Cards, Pirates and Dodgers slumping late in the year, the Brewers have surfaced in the wild card race.
(US Presswire)
WASHINGTON -- Yes, they've looked back.

Of course they have. How could they not?

There were so many games the Brewers could have won in May. And in June.

There were so many games the bullpen blew in July (when the Brewers had an incredible 10 blown saves).

There was the 0-6 trip to Cincinnati and Philadelphia that convinced management to trade Zack Greinke.

So many ways that the Brewers could have won two or three more games, the games that separate them now from being in playoff position.

"You can't un-lose games you lost," Ryan Braun said Sunday morning, when the Brewers were 2 1/2 games behind the Cardinals for the final National League wild-card spot.

They were still 2 1/2 games back on Sunday night, because while the Brewers were beating the Nationals 6-2, the Cardinals were beating the Cubs 6-3. Still 2 1/2 games, with 10 games remaining for the Brewers and nine for the Cardinals.

The Brewers have won 25 of their last 32 games, easily the best record in the majors over the last month plus four days. They're 35-19 since trading Greinke, half a game behind the Orioles for the best record in baseball over that two-month span.

"I don't think we're fun to face right now," first baseman Corey Hart said.

But they all know it may not be enough.

"We don't have to win every single game, but we have to win most of them," manager Ron Roenicke said. "We know we have to play great baseball. To think St. Louis is going to win every game . . . they might. If they do, they deserve it."

The Brewers believe strongly that this is the team they really are. They say there was no meeting or statement that turned things around, just a general belief in the clubhouse that "we're better than this."

There are reasons it has turned, perhaps none bigger than the improvement of the Brewers' late-inning relief. That group that combined for 10 blown saves in July has just two in September, and both came in games that the Brewers went on to win.

"We just needed everybody to relax, and have a couple of good outings," pitching coach Rick Kranitz said.

There's a comfort now that wasn't there before, a feeling that if the Brewers take a lead to the late innings, they will win. With Jim Henderson joining Francisco Rodriguez to set up a revived John Axford, the bullpen is a strength again.

That was unimaginable in July, but all of this was unimaginable then.

"It's pretty remarkable," Braun said.

Braun and Roenicke both reject the idea that the Brewers have played well because they traded Greinke. There's little doubt that they would be a better team now -- and a greater threat if they do get to the playoffs -- if they still had Greinke in the rotation.

But there's no reason to second-guess the decision to move him. The Brewers know that even with their fine run, they still wouldn't have been in a playoff race if the Cardinals, Pirates and Dodgers didn't all slump at the same time.

Even now, they know how tough it could be to make up those last 2 1/2 games. The Cardinals play the Astros this week, while the Brewers will be in Cincinnati playing the first-place Reds.

The Cardinals then go home to play the Nationals and Reds, but it's hard to know how hard those teams will be playing by then (or how many innings their regulars will be playing). The Reds have already clinched the National League Central, and the Nationals have a magic number of six to clinch the National League East.

The Cardinals probably won't win every game, but however many they do win, the Brewers need to win three more than that to tie. If the Cardinals go 5-4, the Brewers need to go 8-2. If the Cardinals go 6-3, the Brewers have to go 9-1. And so on.

"We're in that situation where every game's intense," Hart said.

The Brewers never really faced this kind of pressure last season, when they led the division by 10 games in late August and clinched it with a week to spare. What they're facing now is more like what they experienced in the playoffs last October.

"It's fun," Hart said. "When we were playing pretty bad, there wasn't a lot of excitement. Now there's excitement all day."

Braun spoke of the goal of playing meaningful games in September, then looked at his watch and said, "It's Sept. 23, and we're playing meaningful games."

But he also admitted that for a team that expected to be good and saw itself as a big first-half disappointment, just making a late-season run and still falling short would feel a little empty.

"This isn't a feel-good story, that we tried to come back but fell short," he said.

No, if they fall short, that's when they'll really look back. Maybe it was that night of Greinke's final Brewer start, the game where he handed the bullpen a 6-1 lead in the eighth and they turned it into a 7-6 loss to the Phillies. Maybe it's any number of other games that had the Brewers talking to themselves earlier this year.

"We would say, 'We're better than this,'" Axford said.

As it turns out, they were better than that. If we didn't believe it then, we see it now.

The Brewers are good enough to be a playoff team. They're good enough to be a deserving playoff team, no matter what anyone will say about a system that allows for two wild cards and may allow for an NL team to make it with something like 85 wins (the Brewers are 79-73 now).

But they know there's still a good chance they may not make it. They know why, because yes, they've looked back at all those games they could have won, the games that they now (in Braun's words) can't un-lose.

They'd rather look ahead to the next 10 days.

"It's going to be a fight," Braun said. "It's going to be a battle."

And if the Brewers make it all the way back, that will truly be remarkable.
The Grapefruit League and Cactus League seasons started on Friday

Data will be collected and then used to determine whether humidors are necessary in 2019

Spring training play began on Friday, and the Stoneman Douglas tragedy was on the mind of MLB...
Baseball players forced to take pictures usually lead to fun for all of us

One of the most celebrated programs in baseball is looking to continue its run

A closer look at the teams in the Cactus League and Grapefruit League