Brewers' Lohse more popular than Gallardo; is he available?
The interest in Yovani Gallardo appears lukewarm at the moment, but Kyle Lohse's stock is rising.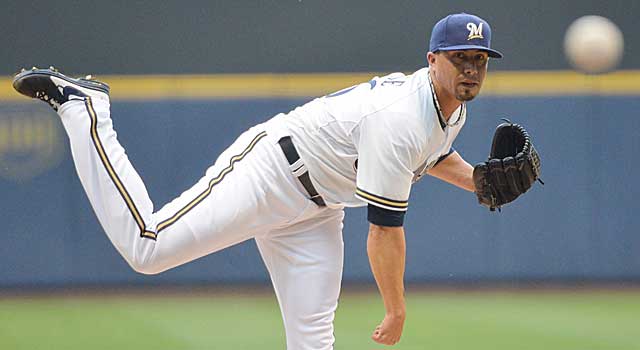 One rival general manager who talked to the Brewers recently posed this question of Brewers GM Doug Melvin: "How about Kyle Lohse instead of Yovani Gallardo?"
He's very likely not the only opposing GM asking that question, either. Lohse, the late-spring pickup, is on a hot streak -- winning six of seven. He has six games in June and July where he allowed zero or one run.
As for the answer that seems very much up in the air, that GM was told no on Lohse, but a Brewers-connected person said of Lohse: "We do not have a mandate to move dollars. It has to be a prospect package that works for us -- an overpay-type deal."
That sounds like a Lohse trade is more of a possibility. But a second G.M. also said it was suggested to him Milwaukee may hold Lohse, at least until the winter.
Owner Mark Attanasio's decision to go for Lohse surely looks like a wise one, as Lohse could be an extremely valuable piece on a very thin pitching market, either now or later. Lohse's $33 million, three-year deal seems pretty reasonable now, considering his performance.
Meanwhile, Gallardo hasn't helped his trade value with some rough recent starts, to the point where he doesn't seem like any sort of big bargain with close to $15 million to go through next year. Overall, he's 8-9 with a 4.89 ERA.
It's still a little surprising how lukewarm the interest is considering Gallardo is 27 and quite accomplished. One GM explained, "He has a significant velo [velocity] change and he got hit hard again [Thursday]. Plus it's a lot of money, and an off-field [issue, an early season DUI]."
Boston wants to add two big bats to their lineup, not just one

Even more relievers signed on the final day of the Winter Meetings

Keep tabs on the top 50 free agents right here
The league is not happy Ohtani's medical information leaked

Kansas City and Baltimore were quite busy at the Rule 5 Draft

Piscotty's mother was diagnosed with ALS earlier this year