Brewers manager Ron Roenicke calls ump Mark Ripperger 'terrible'
Brewers manager Ron Roenicke ripped umpire Mark Ripperger following Wednesday's game over his called balls and strikes.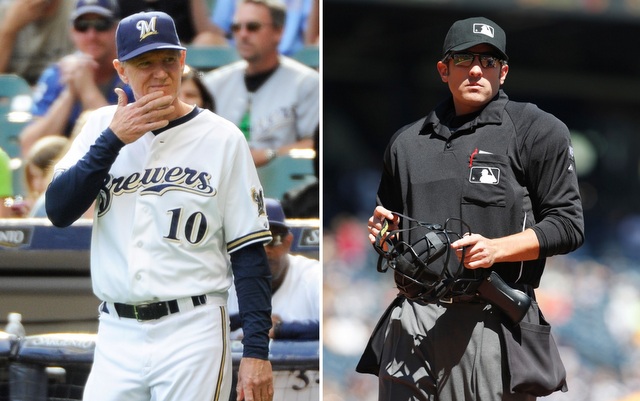 The Brewers, who currently lead a close NL Central race, dropped Wednesday night's game to the Padres after backup catcher Rene Rivera hit a game-tying homer against closer Francisco Rodriguez. Rivera also hit the walk-off single in the tenth inning.
It was a crushing defeat for the Brewers -- what walk-off loss isn't crushing? -- and, after the game, manager Ron Roenicke tore into home plate umpire Mark Ripperger for his work calling balls and strikes. Here's his quote, courtesy of the Todd Rosiak of the Journal Sentinel:
"This is the thing that bothers me: this is the same umpire that we had before, and he is terrible behind home plate," he said. "He calls pitches that aren't even close. The catcher sets up six inches off the plate and he calls them strikes. I should have been kicked out the last time that we saw him. He was behind the plate,

"I'm tired of sitting here watching the catcher set up off the plate and hitting his glove and (the umpire) calling it a strike. They're balls. So Frankie misses, OK, it's off the plate this much, the first one he calls a ball. He's been calling it all night. The next one was a little further off, but he's been calling that also. Just call the same pitches, but they're balls.

"I should have been kicked out in probably the second inning today. It's the same guy."
It's worth noting Ripperger is a Triple-A fill-in umpire. Crew chief Ted Barrett told reporters they will review the strike zone report provided by MLB to see if Ripperger was having trouble calling balls and strikes, something they do after every game anyway.
Here is the called strike zone from Wednesday's game, courtesy of Brooks Baseball: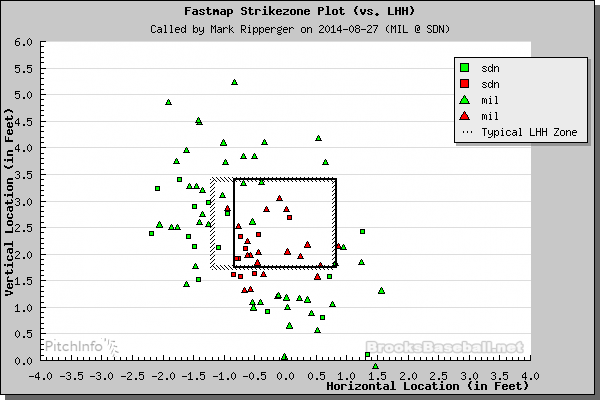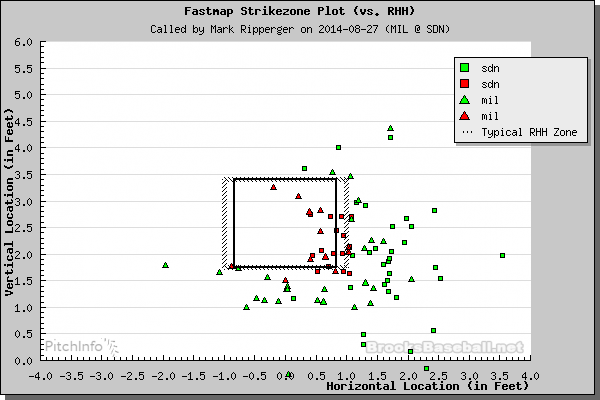 Ripperger definitely had a big zone, especially outside to the right-handed batters. The Padres do appear to have benefited more from that, but that's only because they threw more pitches in that location.
Either way, Roenicke is likely to get slapped with a fine for his comments. MLB won't take too kindly to a manager calling an umpire "terrible," regardless of whether he's a Triple-A fill-in or not. Roenicke was obviously frustrated and now it'll cost him.
Plus the A's have hope and all the rest of the day's action

Matt Chapman and Matt Olson give the A's hope

Despite an awful month, the Dodgers are again NL West champions
The record of 38 previously belonged to Hall of Famer Frank Robinson

The report also says that Jeter had outgoing president David Samson do the firing

This wasn't a traditional hidden ball trick, but the Blue Jays pulled it off