Brewers' Ryan Braun makes good first step, but must do more
Brewers slugger Ryan Braun is finally doing the right thing by accepting blame for cheating with PEDs. But his actions from here on will determine if his apology is real or more wasted words.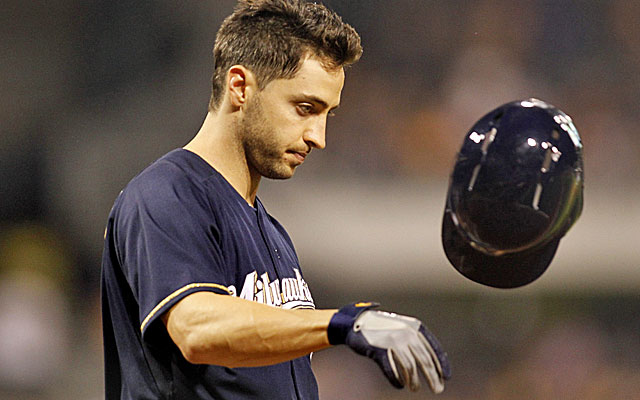 Ryan Braun has apologized, which is nice. He took responsibility, which is nicer still.
But it still doesn't feel like quite enough.
The Brewers' tainted mega star took a positive first step on the road back. But he still has a long way to go, no doubt about that.
Thankfully, he didn't take a book out of his Miami rival/enemy Alex Rodriguez's tired playbook and ask everyone to "judge him from this day forward." But that's probably a fair statement for what needs to happen next.
On the leaderboard of baseball scoundrels, Braun currently ranks a distant second to A-Rod, but being a smart guy (though maybe not quite as smart as he thought), he knows he has work to do to separate himself further from baseball's poster boy for steroids.
This is a start. But there is work to do, and plenty of it.
Braun is to blame, as he said over and over on his lengthy statement issued by the Brewers on Thursday. So at least he has the story right now, something he struggled with until the day he finally walked back into the offices and accepted responsibility and a 65-game ban to MLB officials.
The statement was great, all of it except the excuse. There's no good explanation for taking PEDs, and a still undisclosed "nagging injury," one that apparently didn't impair him too much in that MVP season, certainly doesn't qualify as something worth mentioning now. That comes under the heading: too little, too late.
He's the one who took the drugs, by cream and lozenge, as he revealed in his statement.
No one told him to take it. No one forced it on him.
Braun deserves credit for not fighting this time. The last time, when he won his hearing to beat the 50-game ban, there was enough question about the rule allowing the collector to keep the specimen over the weekend that he fought it, and won.
I thought at the time Braun had a good case based on the rather lax rule -- one which since has been changed -- allowing the collector to keep the specimen too long, and the arbitrator agreed.
But Braun legitimately failed that test, and he should have been suspended.
Baseball got him this time with Biogenesis and Tony Bosch, and he knew it. But the reality is, he got himself.
In his statement, Braun admitted to taking the cream and lozenges late in the 2011 season, and you can believe that if you want.
One of the questions we'd love to have answered is why did he do it? By the timeline he provides, he was already a great and consistent superstar. He'd already signed a big contract (actually two of them), so you wonder why then?
Why start taking drugs after $200 million had been banked?
It seems like a strange choice when he already was a God in Milwaukee. Some won't believe him that it was limited to part of '11, but he brought that on himself. Sources indicate the Biogenesis evidence suggests it was only 2011, which would account for his one failed test. He isn't a serial drug cheat like A-Rod, at least that's what the evidence says now.
It does seem hard to understand why Braun would play clean, then -- after signing two big deals -- suddenly start to cheat. But that's all baseball has on him, and that's all he's admitting to.
I'd love to withdraw my 2011 National League MVP vote and give it to Matt Kemp now, or Prince Fielder. Anyone but Braun. But baseball doesn't do that, and it has a plethora of MVP winners who didn't deserve it. That's one of the biggest shames of the steroid era.
Braun's statement was great. But if he really wants to make a statement, he gives the trophy to his Los Angeles friend Kemp, who finished second and deserved it.
And even better, he needs to help specimen collector Dino Laurenzi Jr, with more than just a phone call. Braun reveals in his statement that he reached out to Laurenzi. Hopefully, Braun was as genuine as he could be with Laurenzi. He can't bring up some quibble about the way he did his collecting, because the collecting wasn't the problem. Not one bit of it.
Laurenzi still works at the company that collects drug specimens for baseball, so it's a misconception that he lost his job. But that doesn't mean he didn't suffer.
Whatever Braun thinks about Laurenzi's specimen-collecting skills, the man did his job and Braun owes him more than an apology. Braun tried to hurt him with words, and he did hurt him badly at the time. Braun should take care of him somehow, set up a scholarship for his son, something.
Braun earned those 65 games for the way he trashed Laurenzi and MLB's drug program. He deserved every one for the way he lied to his teammates, his manager and coaches, and an owner who loved him and supported (not to mention paid him handsomely under false pretenses). And good for him that he readily accepted MLB's offer to be suspended only the rest of the year at his second sitting.
Someone once told me that when you decide to take PEDs, you are committing yourself to lying. And every one of baseball's drug takers, from beloved Andy Pettitte on down, did go the lying route. But Braun really laid it on thick. That's part of why he got the extra 15 games. He deserved every one of those 15 games, too.
Maybe he went in to MLB because he knew he was cooked. But maybe he genuinely wants to pay for what he did. And maybe he will start to make amends for it.
He can do that by living a clean life now, by being honest with his teammates. But first he needs to be honest with himself.
We'll figure that out soon enough whether he's genuine.
He has plenty of career left, so he has time to resurrect a good part of his reputation. He needs to live by the words on that paper issued by the Brewers on Thursday.
He's apologized to the right people, which is just about everyone he came into contact with on his baseball journey. That's something.
Now he needs to continue to accept responsibility. The fault is his. He's said it, now let's hope he understands it.
He needs to treat everyone he wronged especially well, and it's a very long list. That starts with owner Mark Attanasio. Next comes his teammates and manager and staff. Then comes Laurenzi. It's quite a long lineup.
Realistically, too, he also needs to play like he did in every year from his rookie year right through 2012. He needs to prove that he's a genuine star, not a fake one. And he needs to do that on the field, too.
If he starts hitting .250 with 15 home runs instead of the usual .300 and 30, we'll all know we've been had. Again.


CBS Sports HQ Daily Newsletter
Get the best highlights and stories - yeah, just the good stuff handpicked by our team to start your day.
Please check the opt-in box to acknowledge that you would like to subscribe.
Thanks for signing up!
Keep an eye on your inbox for the latest sports news.
Sorry!
There was an error processing your subscription.
Shelby Miller and Robbie Ray are due to return from the disabled list soon

Trout reached his 1,000th career game on Thursday against the Blue Jays
Adam Thompson has a three-way parlay that could pay off huge Friday

SportsLine's Mike McClure, a DFS pro with nearly $2M in winnings, gives optimal lineup adv...

Plus Mike Trout plays his 1,000th career game. Here is everything you need to know about Thursday's...