Brewers say Greinke is fine, but he'd better prove it soon (preferably Tuesday)
Zack Greinke returns to the mound Tuesday, for a start that will be closely watched by teams hoping to trade for the Brewers' right-hander. Brewers manager Ron Roenicke said it might take 3-4 starts to see how Greinke was affected by starting three consecutive games around the All-Star break, but interested teams don't have that long to judge him.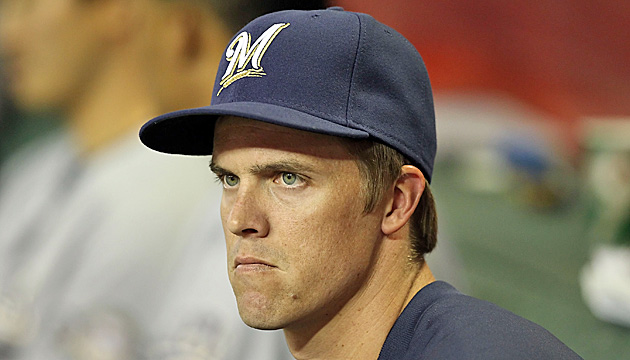 Teams thinking about dealing for Greinke don't have time to see if he's OK. (US Presswire)
PHILADELPHIA -- When I asked Ron Roenicke Monday night whether he's sure Zack Greinke is 100 percent healthy, I got a long answer that ended with a somewhat worrisome line.

"I think in his next 3-4 starts we'll see what [starting three straight games] did to him," the Brewers manager said.

One big problem with that: It's already July 23. The non-waiver trade deadline is next week. Teams interested in dealing for Greinke don't have 3-4 starts to figure out if he's healthy.
The Angels, Rangers, Braves and White Sox are among the teams believed to have interest in Greinke. Texas, Atlanta and the White Sox all have scouts at this week's Brewers series at Citizens Bank Park.
They have one start to decide on Greinke, maybe two. They have Tuesday night's game against the Phillies, when Greinke returns to the mound for the first time since the ill-advised decision to start him in the final two games before the All-Star break (because of a first-inning ejection) and then in the first game after the break, as well.

Greinke wasn't the same pitcher in the second and third of those starts, and the Brewers responded by having him skip a start last week. In the meantime, they've continued to lose just enough games to keep them out of true contention, and found out that even an offer of more than $100 million isn't enough to convince Greinke to sign a new contract.

More and more, it looks like he'll be traded -- assuming that interested teams decide he's healthy enough to warrant giving up good young talent to get him.

So back to that start Tuesday night . . .

"I know there's going to be a lot of teams here [to see him]," Roenicke said.

Roenicke said that he hopes Greinke can handle the uncertainty. He said Greinke looked good -- and healthy -- in a bullpen session Sunday.

"I think he'll be fine," Roenicke said.

The Brewers -- and the teams hoping to trade for him -- can only hope so.

Greinke isn't the only Brewer who could be traded this month. Teams are also watching closer Francisco Rodriguez, outfielder/first baseman Corey Hart and third baseman Aramis Ramirez.

Shaun Marcum would have been on that list, but instead he remains on the disabled list. Marcum is scheduled to throw a bullpen session Tuesday, but there's no way he'll rejoin the Brewers in time to make a start before the July 31 deadline.

In any trade, the Brewers wouldn't mind getting some pitching back. Besides Greinke, Marcum and Randy Wolf are all free agents at the end of the season, leaving the Brewers with almost no established starters (Yovani Gallardo and who else?) going into 2013.


If the MLBPA wants to fix MLB's economic system, it should push for more money for young p...

Fans aren't happy Gerrit Cole and Andrew McCutchen have been traded away

Acuna is arguably the best prospect in baseball
Kent had a good career, particularly with the bat

This would undoubtedly be the worst trade in Miami Marlins history

The Pirates recently shipped Gerrit Cole and Andrew McCutchen to Houston and San Francisco,...