Brewers thinking about a possible return for Corey Hart
Milwaukee's one big positional hole is first base, and one way to fill it would be with their old friend Hart.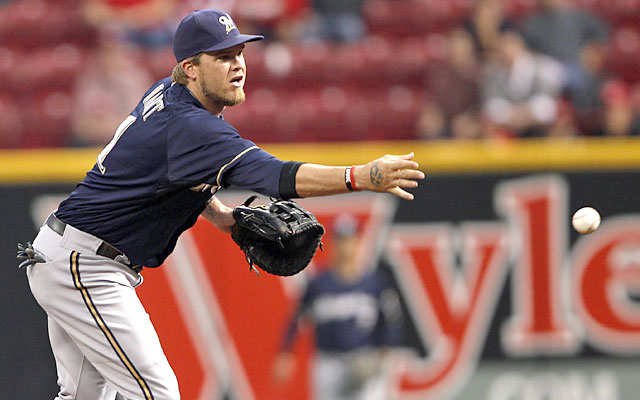 ORLANDO -- The Brewers are considering bringing back Corey Hart to fill their first-base need.
It appears Milwaukee may favor a return of Hart over some other first-base options, such as Ike Davis and Justin Morneau, though there are concerns about Davis' double knee surgery.
Milwaukee has viewed a tape of Hart doing a light drill and he appears to be doing well in it. Word is, he should be ready for the 2014 season after missing 2013 with knee trouble.
Hart, a career Brewer, has said publicly he'd play in Milwaukee for a discounted rate. He hit 30 home runs and batted .270 in 2012.
A Brewers person didn't look overly enthused when asked abut Davis, who's available via trade, or Morneau, a free agent. He added that the rumored trade of Norichika Aoki for Davis would not be happening.
Matt Chapman and Matt Olson give the A's hope

Despite an awful month, the Dodgers are again NL West champions

The record of 38 previously belonged to Hall of Famer Frank Robinson
The report also says that Jeter had outgoing president David Samson do the firing

This wasn't a traditional hidden ball trick, but the Blue Jays pulled it off

The Tigers essentially fired Brad Ausmus on Friday, but things are going to be ugly for a...