Brewers two-headed monster 'Scooter Weeks' is outstanding
The Brewers second base platoon of Scooter Gennett and Rickie Weeks plays as the best second baseman in the National League.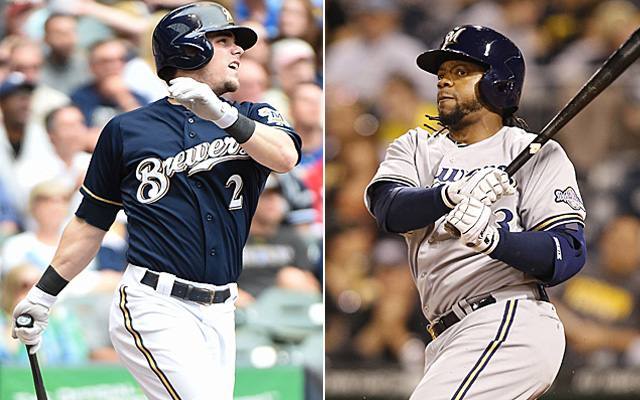 More MLB: Power Rankings | Expert Picks | Latest news & notes | Fantasy news
We're just about at the halfway point of the 2014 season -- some teams haven't played their 81st game yet while some did a few days ago -- and the Milwaukee Brewers have the best record in the NL. They are tied with the A's for the most wins in all of baseball, too.
Considering preseason expectations from the outside, the Brewers are easily one of baseball's biggest surprises (though some of us aren't that surprised). When a breakout team comes along, one of the things I like to do is look beyond the star power (Ryan Braun, Carlos Gomez, Aramis Ramirez, Francisco Rodriguez and now Jonathan Lucroy).
One thing that stands out here is the second base combo of Scooter Gennett and Rickie Weeks, or, just for fun, "Scooter Weeks."
The two have been platooning for a bit, and the combination makes Scooter Weeks either the second-best at the position in the NL behind Chase Utley or the outright best. This coming after Fangraphs.com projected the Brewers to have the 20th most productive second base group in the majors this season.
Gennett still gets most of the starts and he's having a mighty productive season on his own. He's hitting .311/.351/.485 (130 OPS+) with 20 doubles, six homers and 27 RBI. He merits All-Star consideration along with a handful or more of his teammates. He can't hit lefties, though, sporting a .129/.156/.161 line against him.
Enter Weeks.
After a real slow start, the former All-Star is hitting .290/.355/.470 with seven doubles, one triple, three homers and 15 RBI since the beginning of May (110 plate appearances). The Brewers are actually 17-8 in games he starts, too.
If we combine the hitting lines of lefty Gennett vs. right-handers and the right-handed Weeks against lefties -- the whole purpose of a platoon, mind you -- here's what we get on the season:
.317/.363/.514, 24 doubles, three triples, nine homers, 37 RBI, 46 runs, five stolen bases.
Here's Chase Utley:
.293/.353/.450, 24 doubles, three triples, six homers, 37 RBI, 45 runs, two stolen bases.
Looks like Scooter Weeks is the best second baseman in the NL, even if he's actually two different players.
Neither Josh Donaldson nor Brian Dozier have talked about a new contract extension

Francisco leads the Dominican Winter League with seven home runs

Thome deserves enshrinement and here's why the case against him does not hold up
The Twins have already fortified the bullpen with Addison Reed, and now they want to address...

The Orioles likely want pitching, and the Indians have plenty of it

Halladay died in a November plane crash off the coast of Florida