Brewers willing to bid about $100M, but Greinke unlikely to forgo free agency
Milwaukee is going to make a nice offer to star right-hander Zach Greinke, if they haven't already. But top players rarely forego free agency at this stage, as Brewers GM Doug Melvin acknowledged.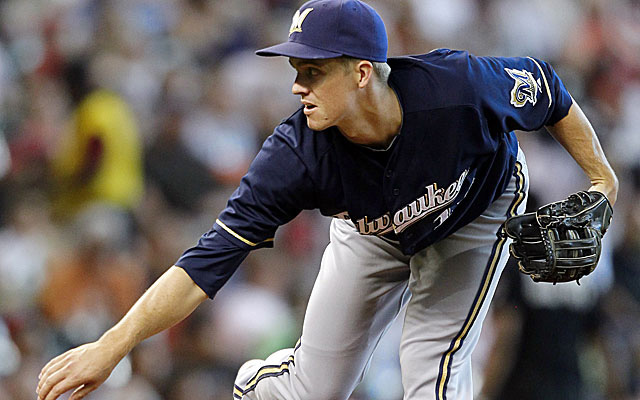 The Brewers' Zack Greinke is 9-3 with a 3.32 ERA and leads the NL with a 3.6 WAR.
(Getty Images)
The Milwaukee Brewers are believed willing to offer close to $100 million over five years to  free-agent-to-be Zack Greinke, according to a person familiar with their thinking. But people close to the team hold little hope that Greinke will sign in mid-season with the Brewers to pass up free agency.
Brewers president and GM Doug Melvin, who declined comment on their contractual negotiations with Greinke, acknowledged that star players on the cusp of free agency rarely bypass the opportunity. "I can't get into what the offers are,'' Melvin said, "but players at that level who get this close to free agency do tend to test the market.''
Melvin did recall one instance in his past of a player giving up free agency with a few months to go, when Ivan Rodriguez told Rangers president Tom Schieffer and Melvin, then the Rangers GM, he'd sign for $42 million over five years ($2 million more than they were offering) "a day or two before the deadline.'' Melvin also remembered that he thought he had a trade lined up to send Rodriguez to the Yankees for Jorge Posada and Eric Milton before Rodriguez volunteered to sign (for the record, Brian Cashman, then a Yankees assistant GM, didn't recall that particular trade scenario).
Greinke is a rare player in that the chance to win may be the single biggest factor for him, bigger than the money. Two years ago he turned down a $100 million offer from the Nationals, who were trying to lure him from Kansas City, when he ultimately approved a deal to Milwaukee instead. But without Prince Fielder, the Brewers have taken a step back this year.
The Brewers were previously known to have been willing to offer Greinke "Jered Weaver money,'' or $85 million over five years, but it should come as no surprise that it's believed they're willing to go into the $100 million range for Greinke, who is 9-3 with a 3.32 ERA (and leads the National League with a 3.6 WAR). They kept their star Ryan Braun for $20 million a year and tried to keep Prince Fielder and CC Sabathia with offers that were also for about $20 million per year. But it's hard to imagine them going more than $20 million a year for Greinke considering that's been their endgame with their biggest stars.
Following Matt Cain's $112.5 million, five-year Giants deal, a $100 million offer is a very reasonable try for Greinke, especially from a small-market team. But it's easy to imagine Greinke topping Cain now that he's fewer than three months from free agency, and considering his dynamic season. Agent Casey Close also declined to comment on the negotiations.
Several teams have called to express trade interest in Greinke, notably the Rangers, Angels and Braves. All three are seen as good fits for Greinke.
But Melvin indicated they want to watch the team play against the Pirates, Cardinals and Reds -- the three teams above them in the N.L. Central -- before deciding whether to become a seller and seriously consider trades for Greinke.
Melvin also noted that 16 of their next 18 games are at home, adding, "I think we'll know by then.''
The World Series champions aren't complacent

Stanton swiped at his old team on his way out

Your one-stop shop for all things MLB Winter Meetings-related
Matt Harvey could be on his way out of New York

The Nationals are looking to improve on the edges of their roster

Ellsbury is due at least $68 million over the next three seasons