Brian Cashman, Bobby Valentine to rappel down Stamford building
No, that headline isn't a joke. Yankees GM and former Mets and Red Sox manager Bobby Valentine will scale down a 22-story building together Friday.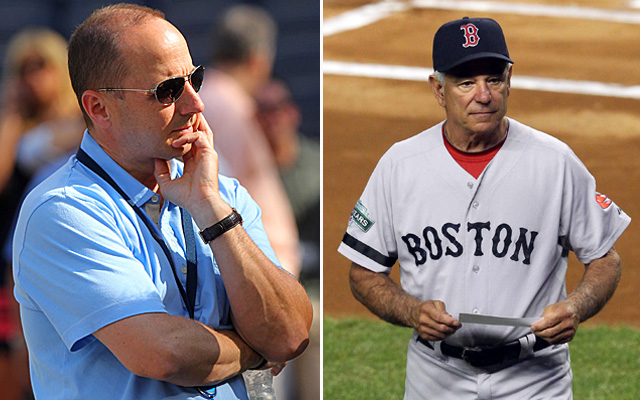 Well, now, Major League Baseball has been providing us with a rather juicy week of news, especially since the smart money would have been on the flurry of moves waiting until the Winter Meetings next week.
With a presumably quick break in the action, here's some news from the lighter side of things.
Yankees general manager Brian Cashman and former (maligned!) Red Sox/Mets/Rangers manager Bobby Valentine are going to scale down a 22-story building in Connecticut together Friday morning, with the broadcast airing live on Fox News' "Fox and Friends" morning show.
Valentine is now the athletic director for Sacred Heart University, which is in nearby Fairfield, Conn. As for Cashman's connection, he resides in Connecticut and this won't be the first time he took part in this event by rappelling.
From the press release:
On Friday Morning, December 6 from 6:00 to 9:00am (ET), Rick Reichmuth, FOX News Channel's Meteorologist, Brian Cashman, General Manager of the New York Yankees and Bobby Valentine, Athletic Director at Sacred Heart University will rappel from the one of Stamford, CT's tallest buildings, The Landmark Building. Santa's Elf, Brian VanOrsdel will be on hand, strapping Brian and Bobby in and guiding them down the 22 stories of the building, all the while broadcasting live on the FOX News Channel, "FOX & Friends" morning newscast.

The event marks the start of Rappelling Santa's arrival in Stamford and is a good practice run for the rappelling crew for Sunday's Heights & Lights program.

On Sunday, December 8 at 5:00 pm Brian Cashman, Bobby Valentine, Santa and friends are scheduled once again to make their dare devil descent down the 22 stories of the Landmark Building, for Reckson, A Division of SL Green Realty Corp's Rappelling Santa. After the rappel, Santa's busy holiday schedule will take him straight up Bedford Street to Latham Park where he will join the Stamford Community in Latham Park for music with The Swingset Mamas and the lighting of the Holiday Tree, donated by Bartlett Tree Company.

Heights & Lights is presented by Reckson, A Division of SL Green Realty Corp. and sponsored by The Advocate, 95.9 The Fox, Star 99.9, WEBE 108, Bartlett Tree Company, Happyhaha.com and The First Congregational Church of Stamford and brought to you by Stamford Downtown and The City of Stamford. Free Cocoa at the Unitarian Universalist Society. THIS EVENT IS FREE!
Rock on, Santa, Mr. Cashman and Bobby V.
Gallardo spent the first eight years of his career in Milwaukee

MLB revenues are at a record high right now, but teams aren't spending it on players

Chicago added Tyler Chatwood earlier this offseason but might not be done adding to the ro...
The Dodgers and Braves pulled off a whopper on Saturday

Sabathia will reportedly spend a 10th season in the Bronx

Fowler suffered a knee injury at Chicago's Guaranteed Rate Field