Brian Cashman essentially calls 2012 Orioles an 'anomaly'
When discussing how teams who outperform their run differential one season are bound to correct the next, Yankees GM Brian Cashman basically called the 2012 Orioles an anomaly.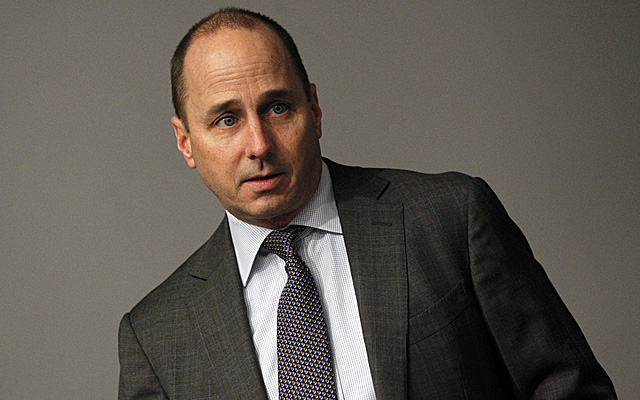 MORE: Spring Training | FA tracker: position players | FA tracker: pitchers
Remember all that talk about the Orioles' run differential in 2012 and how their 93-69 playoff run was largely fluky due to said differential in addition to the record in one-run and extra-inning games? It's been a while since that polarizing topic came up, no?
Well, Yankees general manager Brian Cashman has brought it back up in a New York Post story: 
"The run differential is more reflective of the talent on the field. When you over-perform, like the Orioles did [in 2012], you realize that's more of an anomaly. And last year was a market correction."
Whatever, Brian. You obviously live in your mother's basement with all that stat geek talk.
On a serious note, Cashman wasn't going out of his way to bash the Orioles. He was discussing how his Yankees last season were also an anomaly, as the negative run differential showed. The Yankees should have been around 79-83 instead of 85-77, run differential showed. Just expecting them to continue to exceed that would be folly, which is why Cashman went on a spending spree this offseason instead of standing relatively pat and expecting similar results. He was using the Orioles as an example of what could happen when standing relatively pat -- because the 2013 Orioles were exactly what their run differential said they should be (85-77) after the 2012 Orioles outplayed it by 11 games.
Still, it's pretty funny that Cashman essentially called a division-rival -- and playoff foe that season -- a fluke. Considering how angry Orioles fans got with little ol' me for pointing it out, I'm guessing the mouth of the GM of the hated Yankees will draw a bit more ire.
Several teams are interested in the switch-hitting first baseman

Neshek and the Phillies are closing on a two-year contract

And the team that first drafted Cole is interested
This scout was SUPER into Jeter

Stanton warned Marlins fans about the lean years that are forthcoming

The World Series champions aren't complacent