Bronson Arroyo: 'Nobody's thrown me an offer yet'
With pitchers and catchers due to begin reporting to spring training in a little more than two weeks, free agent right-hander Bronson Arroyo says he has yet to receive an offer.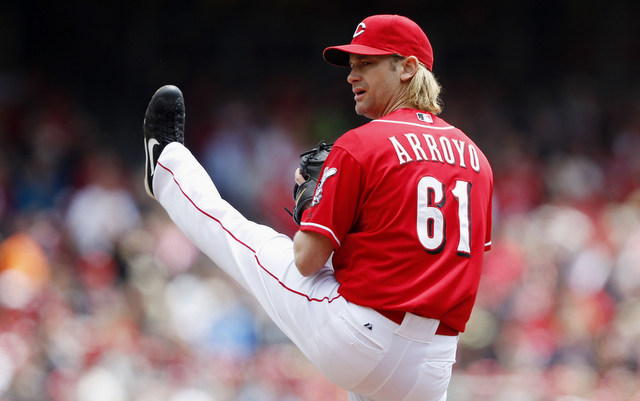 MORE: FA tracker: position players | FA tracker: pitchers
Pitchers and catchers are due to start reporting in a little more than two weeks, but there are still several brand name free agents left unsigned. One of those brand names is right-hander Bronson Arroyo, the veteran workhorse who will give some team 200 innings no questions asked next season.
On Wednesday, the soon-to-be 37-year-old Arroyo told Jayson Stark of ESPN that he has not yet received an offer this winter, which is hard to believe. Here's what he said:
"I get [Clayton] Kershaw," Arroyo told ESPN.com. "I get why he got all that money. But then you've got guys like Dice-K [Matsuzaka], who came over here and was good for the first couple years but then didn't pan out. And when he doesn't pan out, they all just forget and go on to the next guy who's not proven, and pay him.

"Meanwhile, they forget about guys like me, who have done the job for the last eight or 10 years, and treat them like they've never done anything in this game. That's hard, man."

...

"I don't know what to do," Arroyo said. "I'm not trying to break the bank. But I am a guy who's performed for the last 10 years as consistently as anybody in the game. And for some reason, nobody's thrown me an offer yet."
The part about Arroyo being as consistent as anybody in the game the last 8-10 years, while true, is mostly irrelevant. Teams aren't signing 2004-13 Arroyo, they're signing the guy on the wrong side of 35 with almost 2,300 innings on his arm and an 80-something mph fastball you could catch with your teeth. Teams pay for future performance, not past performance.
Now, that said, it's definitely surprising Arroyo has not yet received an offer this winter. He's incredibly durable (199+ innings in nine straight years), won't cost a draft pick, and reportedly is a tremendous teammate and mentor to young players. The Masahiro Tanaka situation delayed the pitching market, but now that he and Matt Garza are off the board, Ubaldo Jimenez and Ervin Santana figure to come next. Once they've signed, Arroyo and Paul Maholm are likely to follow.
Where might the Orioles third baseman land?

Kinsler will slot in at second base for the Angels

The Marlins got a better return for Ozuna than Stanton or Gordon
The two teams are going about things in very different ways

The Marlins are indeed in teardown mode under new ownership

The Marlins still have more attractive pieces