Bronson Arroyo, Reds dominate in Game 2 win: Quick hits
Bronson Arroyo allowed just one hit and a walk in seven innings, as the Reds dominated the Giants in a 9-0 victory over the Giants in Game 2 of the NLDS. The Reds return to Cincinnati with a 2-0 series lead.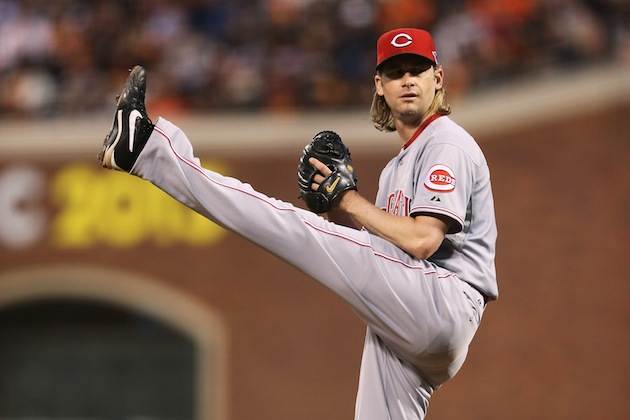 Bronson Arroyo was masterful on Sunday. (Getty Images)
Madison Bumgarner and Tim Lincecum both pitched for the Giants, but they were an afterthought behind the brilliant performance by Reds starter Bronson Arroyo, who allowed just two baserunners in seven innings as the Reds took a 2-0 series lead with a 9-0 laugher at AT&T Park.
Hero: Arroyo played the Giants more masterfully than he's ever played a guitar -- and for once he was pitch-perfect, too. pitched perhaps the greatest game of his career, allowing just one hit and a walk in seven innings. He actually batted for himself in the top of the 8th, but with the Reds putting up 5 runs in the inning to increase their lead to 9, Dusty Baker took pity on his former team and took Arroyo out.
Goat: If Matt Cain wasn't going to be the ace the Giants needed, at least they had Bumgarner following him, right? The day after Cain disappointed, Bumgarner didn't make it through five innings, giving up four runs on seven hits in 4 1/3 innings. Bumgarner got through the first without a ball in fair territory, but Ludwick hit the first pitch of the second inning into the seats.

Turning point: Ludwick's homer gave the Reds another early lead. Saturday night it was a two-run homer by Brandon Phillips in the third that got the Reds on the board and Sunday it was Ludwick's solo shot. The Reds have led all but three innings in the first two games of the series.
It was over when: Gregor Blanco grounded out to end the fifth. Sure, it was just another ground out -- there were plenty of them -- but it took the sales out of the Giants who had just gotten their first hit of the game when Brandon Belt singled to center with two outs in the inning. With the Reds leading 4-0 and the Giants not able to do anything in that inning, it was clearly done.
Next: The series moves back to Cincinnati, with Homer Bailey (13-10, 3.68) of the Reds faces off against Ryan Vogelsong (14-9, 3.68) on Tuesday.
For more baseball news, rumors and analysis, follow @EyeOnBaseball on Twitter, subscribe to the RSS feed and "like" us on Facebook.
The Grapefruit League and Cactus League seasons started on Friday

Data will be collected and then used to determine whether humidors are necessary in 2019

Spring training play began on Friday, and the Stoneman Douglas tragedy was on the mind of MLB...
Baseball players forced to take pictures usually lead to fun for all of us

One of the most celebrated programs in baseball is looking to continue its run

A closer look at the teams in the Cactus League and Grapefruit League