Broxton, Marshall to start season on DL; Mesoraco has oblique issue
More bad injury news for the Reds: Jonathan Broxton and Sean Marshall will start 2014 on the DL, and Devin Mesoraco has an oblique problem.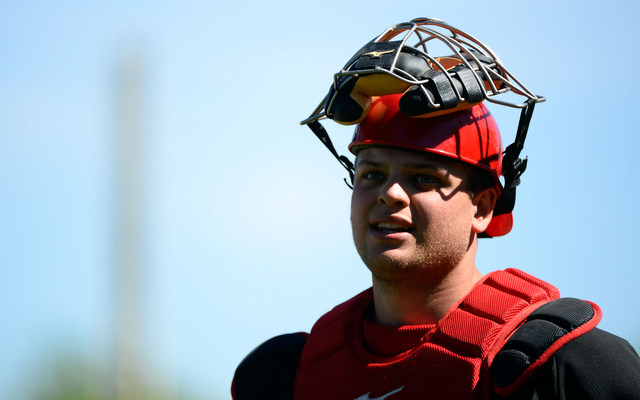 More Rds: Team Preview | Likes, dislikes | Over/unders | MLB Spring Training

The Reds have been hit hard by injuries this spring, most notably losing Mat Latos to knee surgery and Aroldis Chapman to a concussion and facial fractures after he was hit by a line drive earlier this week. Rookie manager Bryan Price held court with reporters on Friday morning and gave a series injury updates. Let's round 'em up:
• RHP Jonathan Broxton (forearm) and LHP Sean Marshall (shoulder) will start the season on the DL. Latos will likely do the same.
Johnny Cueto (scapula irritation) will start a minor league game on Tuesday.
• RHP Homer Bailey (groin) with throw bullpen sessions on Friday and Sunday.Devin Mesoraco is dealing with an oblique injury. The team will know more about his status in 48 hours.
With both Broxton and Chapman sidelined, Price said he is unlikely to name a closer and will instead go with a committee. Lefty Manny Parra and right-handers Sam LeCure, J.J. Hoover and Logan Ondrusek were mentioned as candidates for ninth inning work. Price also indicated righty Alfredo Simon will start the year in the rotation, replacing Latos.
Between all the injuries and an offseason that saw them lose more players (Shin-Soo Choo, Bronson Arroyo, etc.) than they brought in, the Reds are much weaker right now than they were a year ago.
If the slow-play for Martinez, Hosmer and Arrieta sounds familiar, it should

The Nats will host the All-Star Game in 2018

The Orioles are looking to trade Machado heading into his walk year
The Cardinals have been linked for a while to the Baltimore star

Gallardo spent the first eight years of his career in Milwaukee

MLB revenues are at a record high right now, but teams aren't spending it on players