Bryce Harper hits 4th of July home run with patriotic bat, for America
Harper struck quickly for a home run against Madison Bumgarner, using a stars-and-stripes themed bat that also featured the D.C. skyline. Harper said he expects a fine from Major League Baseball for using unauthorized colors and patterns.
Baseball fun on Independence Day kicked off early on Saturday -- the Nationals and Giants started their game bright and early at 11:35 a.m. ET, with Washington jumping all over Madison Bumgarner for three runs in the first inning after three batters. The third of those three batters was Bryce Harper, who hit a two-run homer with a very patriotic bat. Check it out:
America! Dingers with the ol' stars and stripes, plus the D.C. skyline. It gets no better. But about that bat: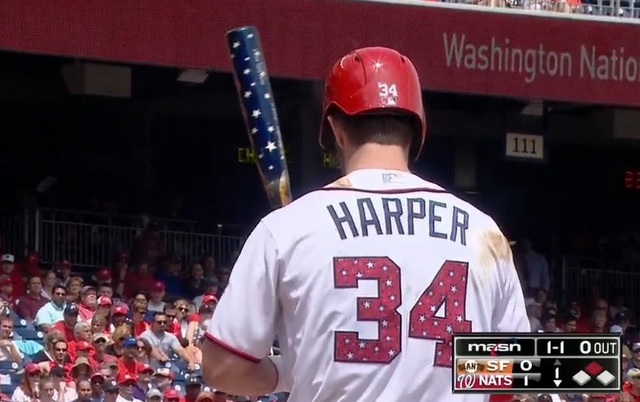 Harper told MASN's Dan Kolko after the game he got the bat in the offseason and figured the Fourth was a great time to unveil it. 
"I'll probably get fined for it," Harper said, half-jokingly -- but half-not. Because Major League Baseball has strict regulations about what kind of bat players can use, even down the aesthetics. Yes, there are bat rules: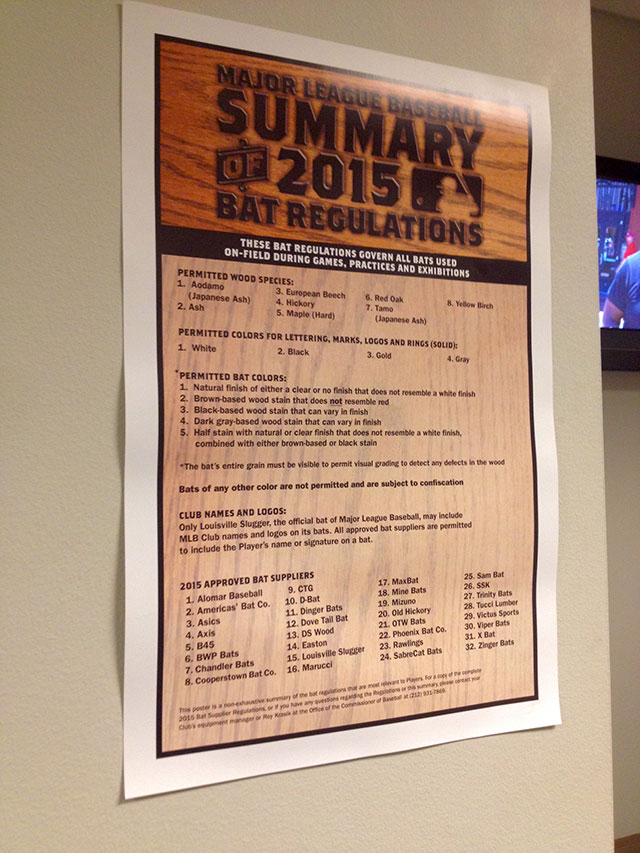 That's pasted to the walls of the visitor's clubhouse at Busch Stadium, probably like it is at many other stadiums. Like the U.S. tax code, it's kind of complicated. But, summing up: Approved bats must have a natural finish -- which can't be white -- and stains that are brown, black and/or dark gray. It cannot resemble red. CAN-NOT.
So, with no white and no red, and no mention of blue being allowed, it appears Harper was using an illegal bat. Unless he has a letter from his bat physician with a therapeutic use exemption, Harper's right: He's probably going to get fined. And he's lucky that's all, because in the fine print:
"Bats of any other color are not permitted and are subject to confiscation."
Is this even America anymore?!
There's no reason to run over the cases for and against Bonds, so let's have fun instead

The coveted right-hander would certainly be a fit in Milwaukee

We rate the best mustaches from random baseball cards because, why not?
Colon wants to break a Dennis Martinez record

The Twins have been rumored to be interested in Darvish all winter

Rolen is one of the best third basemen of all time, but you wouldn't know it based on this...