Bryce Harper may play in the World Baseball Classic on one condition
When it comes to the 2017 World Baseball Classic, Bryce Harper will consider playing if he has the right company.
The run-up to the 2017 World Baseball Classic is underway, even if it's not prominently in the news cycle just yet. Recently, the great Jim Leyland agreed to manage Team USA in the 2017 tournament, so that's a fine start.
As for the issue of filling out the roster, we're just in early stages of speculation. The U.S. hasn't won any of the three tournaments to date (Japan won in 2006 and 2009, followed by the Dominican Republic in 2013), and in part that's because some of the games best players have taken a pass on participating. That's certainly understandable, as their jobs are to contribute to their MLB teams, not take part in international tournaments held during spring training.
That consideration brings us to Nationals outfielder Bryce Harper, who's becoming, per general consensus, the best player in baseball today. The Nevada native is also, of course, eligible to play for the U.S. in next year's World Baseball Classic. All of that led Chase Hughes of CSN Mid-Atlantic to ask Harper whether he'd be willing to participate in the 2017 World Baseball Classic:
"I think when you really look at it, if the guys play that you really want to play with, then definitely I'll play. But if we're not going to have the opportunity to win, then I don't want to play," Harper told CSN Mid-Atlantic. "If we do that, then I'm definitely in. If not, I probably won't do it."
Not much parsing required. If fellow U.S.-eligible stars and superstars agree to play for Team USA, then Harper will be much more likely to join them. Hughes' story has more, including the specific players that Harper's name-checks.
Our own Mike Axisa has already day-dreamt about what perfect-world U.S. roster would look like, and, as you might imagine, Harper was part of it.
Developing!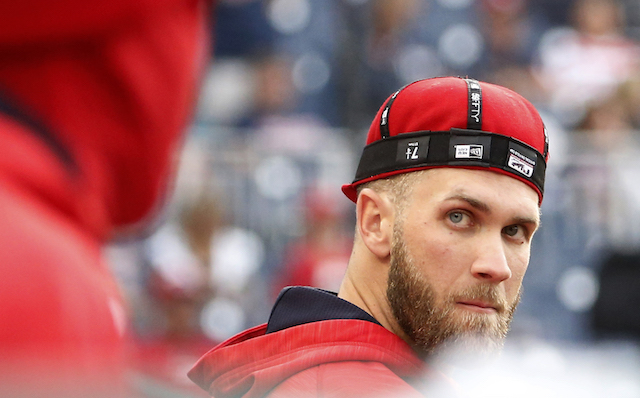 Boston wants to add two big bats to their lineup, not just one

Even more relievers signed on the final day of the Winter Meetings

Keep tabs on the top 50 free agents right here
The league is not happy Ohtani's medical information leaked

Kansas City and Baltimore were quite busy at the Rule 5 Draft

Piscotty's mother was diagnosed with ALS earlier this year