Bryce Harper, Nationals could be headed toward salary impasse
An oral agreement on a clause in Bryce Harper's contract was never put down in writing and it could cause an issue between the Nationals and Harper's agent (Scott Boras) next offseason.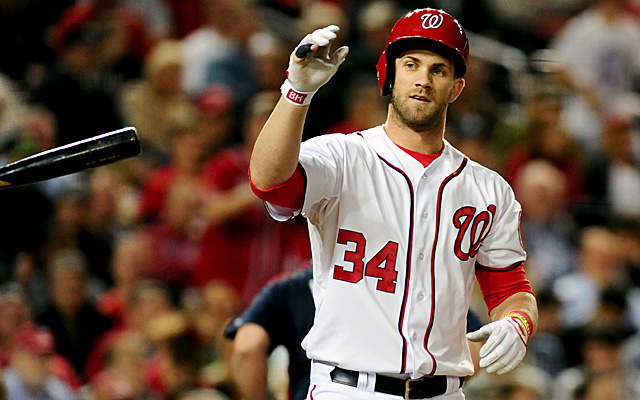 Before we delve into this, it is of the utmost importance to point out that Bryce Harper won't hit free agency until after the 2018 season, so the Nationals aren't in any danger of losing him any time soon. Understood? Good. Now let's get to it.
Next offseason, there's a distinct possibility that a grievance will have to be heard concerning the salary of Nationals star youngster Bryce Harper.
As reported by Adam Kilgore of the Washington Post, Harper signed with the Nationals in 2010 just minutes before the deadline for clubs to sign draft picks. He agreed to a five-year, $9.9 million contract -- a major-league contract, which is rare for draftees.
As part of the deal, Harper's agent, Scott Boras, and the Nationals came to an oral agreement that Harper could opt out of his deal and take part in MLB's arbitration system once he became eligible -- if that happened within the terms of this deal. The Nationals ended up not including that in the written agreement, however.
Days later, the Nationals presented a final written contract that did not contain an opt-out clause. Anticipating the possibility that Harper, at the time 17, could reach the majors sooner than expected, Boras and the Harper family refused to sign it.

At that time, Major League Baseball and the Players Association took the unusual step of interceding with a compromise: a letter of agreement stating that, if Harper qualified for salary arbitration before he reached the end of the contract, a grievance hearing would determine whether he could opt of his contract.
Harper will almost surely qualify as a "Super Two" arbitration-eligible player next offseason, meaning if he wasn't under contract for the year, he would most certainly earn more than the $1.5 million he's ticketed to earn.
Harper's contract runs through 2015, so the dispute will only concern one season. After that, Harper will be an arbitration-eligible player until he hits free agency.
This case is mostly about the Nationals trying to balance dollars with the happiness of the face of their franchise for the foreseeable future. At age 21, Harper is going to continue to improve and is very likely to be one of baseball's best players during his arbitration-eligible years.
Maybe this divide will provide the perfect opportunity for the two sides to begin talking about a long-term contract extension that will buy out Harper's arbitration years and several years of free agency. It's a starting point. Then again, Harper isn't close to free agency and I don't even wanna imagine what Boras would ask for at this point (12 years and $400 million?).
Harper hit .274/.368/.486 (133 OPS+) with 24 doubles, 20 homers and 11 stolen bases last season in 118 games, despite being hampered by injuries -- stemming from running into the outfield wall twice -- through much of his sophomore campaign.
Gallardo spent the first eight years of his career in Milwaukee

MLB revenues are at a record high right now, but teams aren't spending it on players

Chicago added Tyler Chatwood earlier this offseason but might not be done adding to the ro...
The Dodgers and Braves pulled off a whopper on Saturday

Sabathia will reportedly spend a 10th season in the Bronx

Fowler suffered a knee injury at Chicago's Guaranteed Rate Field