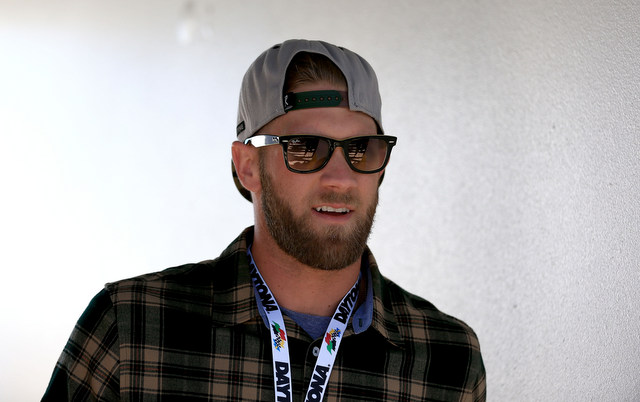 Over the winter the Nationals took their powerhouse squad and made it even stronger by signing right-hander Max Scherzer. They gave him a seven-year, $210 million contract to front an already stacked rotation.
Washington was already a legitimate World Series contender without Scherzer, but adding him makes them the odds on favorite heading into the season. So, Bryce Harper, how did you react to the news of the Scherzer addition? From CSN Washington (emphasis mine):
"I mean, that's unbelievable. So to be able to have a guy like Scherzer come in, I just started laughing. I was like: 'Where's my ring?' Cause it's just stupid," he said to CSN's Mark Zuckerman and other reporters.

"It's absolutely stupid how good our staff is. To add a Cy Young, to add a guy that is unbelievable in the postseason. If you have to go into a 5-game set in the postseason — looking ahead, like I told you I wouldn't — you have to go into a 5-game set with a team, you're going to have to face Zimmermann, Fister, Scherzer and Stras. Good luck. That's just insane. Going into that, I'm just crying. It's hilarious to me, having to go in there and face them. It's absolutely stupid. We have the best staff in baseball, I don't care what anybody says. And the thing about our guys: They work. It's not like it's just: 'Let's just go out there and play. They work, and they work hard. And to add a guy like Scherzer, who's a bulldog out there, who's unbelievable in the postseason and shows that fire and that emotion, is something I'm going to enjoy watching this year. And I think our team in the outfield is going to do a lot of watching, because they're going to be carving it. We're excited."
He sounds really excited! Can't blame him. I'd be pretty pumped if my team signed Scherzer too.
From what I understand, people don't really like Harper, so he's being smug and arrogant by saying "where's my ring?" He just gave every team in the league bulletin board fodder!
But, if it was a player everyone likes, someone like David Ortiz or Derek Jeter, well then look at all that confidence! That's usually how it goes.
Harper is a career .272/.351/.465 (121 OPS+) hitter with 55 home runs before his 22nd birthday, by the way. And he has four homers in nine career postseason games. Hate on, haters.