Buck Showalter makes outstanding point on looming A-Rod ban
If Alex Rodriguez is suspended for life, the Yankees will get significant salary relief, not having to pay his ridiculous contract.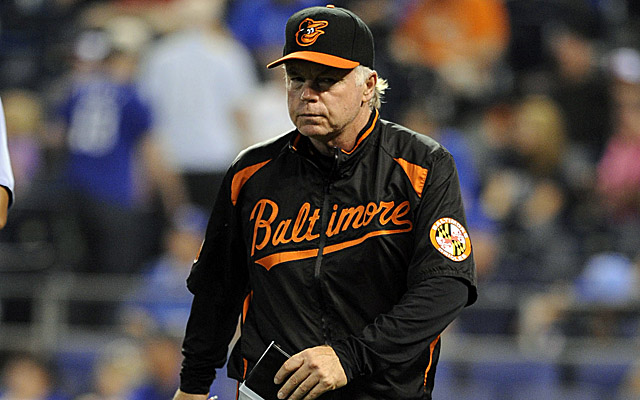 More A-Rod: MLB seeks lifetime ban | A-Rod wants to be a role model
With a potential lifetime ban coming to Alex Rodriguez seemingly any minute now, many are licking their chops and holding their virtual pitchforks at the thought of finally being rid of baseball's pariah.
Orioles manager Buck Showalter, however, makes a very salient point -- one that every fan in baseball should be aware of, via usatoday.com:
"If Bud lets them get away with that, they're under the luxury tax," Showalter told USA TODAY Sports. "If they can reset, they can spend again and I guarantee you in two years Matt Wieters is in New York."

-- snip --

"They're the ones who signed him to that contract," Showalter said of the Yankees.
Whether he's correct about Wieters is beside the point. Buck is making a point and he's dead on, as usual.
A-Rod is set to make $26 million next season, $22 million in 2015, $21 million in 2016 and $21 million in 2017. If lifetime ban means A-Rod doesn't get paid, so the Yankees would be out from under that albatross of a contract that -- as Buck points out -- they willingly signed.
In looking ahead at contract commitments, come 2015 the Yankees only have Mark Teixeira's $23.125 million and CC Sabathia's $23 million on the books post-arbitration. Granted, free agency isn't what it once was with so many players re-upping to stay put before hitting the open market, but that's an awful lot of wiggle room for a team used to spending over $200 million on payroll.
An A-Rod lifetime ban not only makes it much easier for the Yankees to retain free-agent-to-be Robinson Cano, but it gives them the ability to corner the market on the best free agents in the next few years, or even take on big salaries via trade should they choose to do so.
What a twist that would be if commissioner Bud Selig suspended A-Rod for life "in the best interest of baseball," while also giving baseball's biggest money machine something that is tantamount to a lottery ticket.
From this end, my best guess is Yankees fans might be pulling for a lifetime ban, but what about fans who hate both the Yankees and A-Rod? What are you guys rooting for? This is a true pick your poison situation because in one scenario he doesn't go away and in the other the Yankees are helped down the road rather sizeably.
Hat-tip: Big League Stew