Bucking the trend: Mets' new catcher turns into surprise RBI leader
John Buck has been great handling the Mets' young pitchers, but you can't beat his early 27 RBI.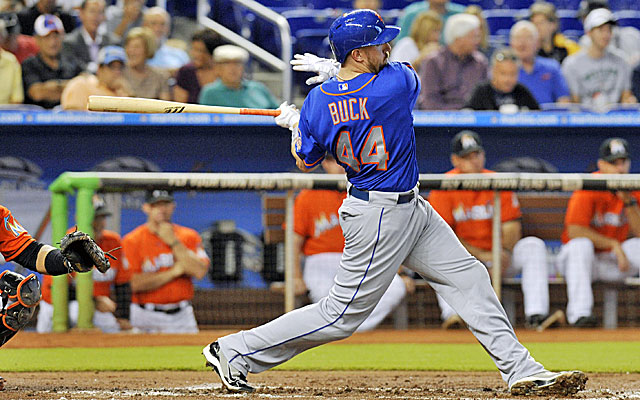 MIAMI -- John Buck, the sudden RBI machine, returned to the scene of the Marlins' 2012 horror show in which he played a minor role, not that anyone in the small, mostly school-aged crowd with giveaway or reduced-price tickets noticed.
He came back to Miami as a New York Met and left as the most improbable National League RBI leader you could imagine. Certainly no one down here, who witnessed Buck suffer through his .192 season of '12, would have suspected he had this in him. But, in a surprising way, the move to New York might have been a catalyst to a career spark.
The Wyoming native and Salt Lake City product had previous stops in smaller burgs such as Kansas City, Houston and Toronto, as well. But in a weird way, he was always waiting for New York. "We didn't really have a team growing up. And when we dreamed about playing baseball, it was always in New York or a big city, and it was always for the Yankees or Mets,'' Buck said.
Right now, all his offensive dreams are coming true for Buck, whose 27 RBI trail only Triple Crown defender Miguel Cabrera, red-hot Orioles slugger Chris Davis and no one in the National League. Buck was first seen as a respectable, defensively strong placeholder for the real prize of the R.A. Dickey trade, sweet-swinging young catcher Travis d'Arnaud. But thus far, Buck is proving to be one of the best Mets pickups in years. His two-run double off Chad Qualls was a key in the 7-6 win on Wednesday and helped salvage what looked like a lost Mets week after six straight defeats.
While d'Arnaud is out several more weeks with a foot injury and Buck -- a free agent after the year -- might still amount to nothing more than a stopgap star, he is proving to be a great fit for the big city. He grew up in Taylorsville, Utah, a "baseball hotbed,'' according to Buck, who had new Mets teammate Brandon Lyon on his youth team (he has the picture on his cell phone to prove it). But he is loving the New York experience.
"Maybe when I was young it would have been different. Now that I'm older, I welcome the pressure of it,'' Buck said. "Everyone in the city is knowledgeable. It's fun pressure. I don't wear it as hard. It feels like positive pressure.''
However it feels to him, he has been a savior for the Mets, whose struggles have been mitigated by the exploits of Buck and young pitching star Matt Harvey. Harvey is 4-0 with a 1.56 ERA. Buck has nine home runs to go with the 27 RBI. When someone mentioned he had amassed what amounted to a half year inside a month, Buck noted that it was close to his production for all last year, when he had 12 home runs and 41 RBI and suffered in expansive Marlins Park (a hitting nightmare compared to the reduced Citi Field). "To blame my year on the field, that's searching for excuses. That's not how I roll,'' Buck said.
He has earned his rep as an adept handler of pitchers and extremely positive clubhouse presence. Buck has enhanced it with the young Mets, including the phenom Harvey. Buck delayed his interview so he could continue his tete-a-tete with young lefty Robert Carson, and he has been a boon to Harvey, an early Cy Young candidate.
But it's his hitting exploits that have really made the difference, especially the amazing RBI total, which he modestly attributes to lineup placement. "I'm hitting higher in the lineup, and RBIs are a product of your teammates setting you up. I couldn't drive in runs if nobody's on base,'' Buck noted.
That's more modesty, as Buck isn't exactly in a murderers row with the Mets.
Things are a bit better than with the Marlins last year, though, when he had his career-worst season (he would have finished last in batting if he had enough at-bats to qualify). The really bad part was the disastrous team result for a squad expected to contend during the inaugural year in Marlins Park.
"There was a lot of stuff [going on]. But when it comes down to it, we just didn't play good baseball," Buck said. "It was hard. As a catcher, you take winning and losing pretty hard. It was definitely a character-building year.''
He did pick up a thing or two, but they might have come on his way out, when then-Marlins hitting coach Eduardo Perez (he has since moved to the Astros) suggested he keep things looser, from his hands to his shoulder. Buck took it to heart, and he took up boxing to help him keep things loose.
Meanwhile, he is guarding against getting carried away with his incredible early numbers. He mentioned that he remembers a few more times that he didn't come through and could have -- though, eventually he conceded, "Obviously, it's going good right now.''
Buck picked up three more hits to improve to .264. He'll try to keep it going in hope of making his second All-Star Game. This one would be in his home park, Citi Field.
"That would be fun,'' he declared.
With d'Arnaud in tow, it might yet be a temporary home for Buck. But if he keeps this up, he won't soon be forgotten in New York, the place of the dreams of his youth.
The coveted right-hander would certainly be a fit in Milwaukee

We rate the best mustaches from random baseball cards because, why not?

Colon wants to break a Dennis Martinez record
The Twins have been rumored to be interested in Darvish all winter

Rolen is one of the best third basemen of all time, but you wouldn't know it based on this...

Neither Josh Donaldson nor Brian Dozier have talked about a new contract extension