Bud Selig defends National League manager Tony La Russa's selections for All-Star Game
Commissioner Bud Selig backed National League manager Tony La Russa over his choices for the National League All-Star Game.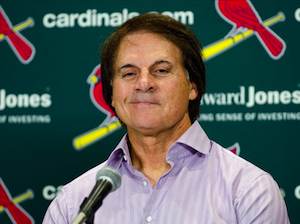 Bud Selig, apparently, has absolved National League manager Tony La Russa for his snub of the Reds' Johnny Cueto. Speaking on a conference call Monday afternoon, Selig backed La Russa on his selection of the team.

"When you look at the list of pitchers, and I went over that with Tony, and I think in the end there were a lot of pitchers available. And I think in the end, they picked their strongest staffs," Selig said (via MLB.com). "Every year, there's always some struggles. We've had less controversy this year. Everybody would like to have all their players on, but in fairness to the Cincinnati Reds, they have three players on [the NL team], and that's a strong showing."

On Sunday, La Russa said the fact Cueto (and Zack Greinke) were scheduled to pitch the Sunday before the All-Star Game (the exact quote was "Cueto probably would be on the team if he wasn't pitching Sunday.") Previously that would make a pitcher ineligible to pitch in the All-Star Game, but that rule was changed in the latest Collective Bargaining Agreement. In addition, Greinke is scheduled to pitch Saturday, not Sunday.

Monday, speaking to the St. Louis Post-Dispatch, La Russa said, "I know the rule," and the writer of the article, Rick Hummel, noted that La Russa said that "tersely."

La Russa also denied, once again, that he was holding a grudge against Cueto and Brandon Phillips, who were key figures in a brawl with La Russa's Cardinals two years ago.

"It would be absolutely wrong for me to have done what they're accusing me of -- which is keeping two deserving All-Stars off the team because of some past [bleep] they were involved in," La Russa said (via the Post-Dispatch). "But it would be more wrong to put them on the team to avoid a cheap shot and give them a spot that just didn't work out for them."

Cueto's agent, Bryce Dixon, reportedly emailed Michael Weiner of the player's association that he was considering filing a grievance over the snub. Cueto would have received a $25,000 bonus for making the team. The 26-year-old right-hander is 9-4 with a 2.26 ERA. His 2.29 ERA over the past two seasons is the lowest among starters in the National League.

For more baseball news, rumors and analysis, follow @EyeOnBaseball on Twitter, subscribe to the RSS feed and "like" us on Facebook.
The Twins have already fortified the bullpen with Addison Reed, and now they want to address...

The Orioles likely want pitching, and the Indians have plenty of it

Halladay died in a November plane crash off the coast of Florida
The power-hitting outfielder is headed to Toronto

Martinez could add some power to a Boston lineup void of it

It's almost that time of the year again, time for the Tebow madness to return